This is a little card I made as something of an experiment...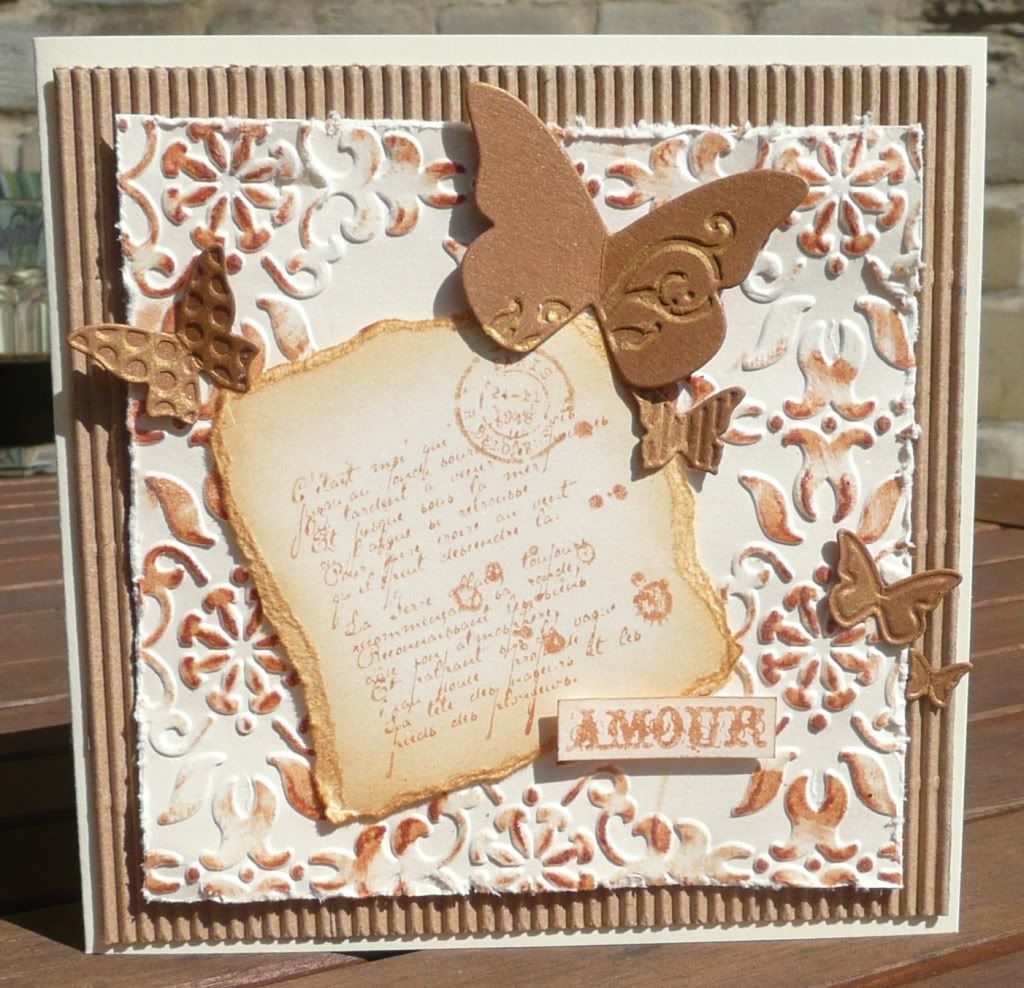 I love Stampin' Up! products and I do like what I consider the "Stampin' Up! style" - the kind of fresh, striking, colourful designs that the Idea Book & Catalogue is full of. But I also feel that Stampin' Up! products are very versatile and can be used in lots of other styles too.
I already had a go at something rather different a few weeks ago when I used a brayer with my Stampin' Up! inks and the En Francais and Artistic Etching stamp sets to create a Paris sunset scene for a card:
And now this latest card was my go at doing a bit of a "grunge" style with Stampin' Up! products. :)
Pretty much everything on this card is Stampin' Up!, other than the brown and the corrugated card and the ink. I used the Vintage Wallpaper embossing folder to emboss Whisper White card and I then inked over the raised parts of the image with Tea Dye distress ink and heat embossed it with clear embossing powder. I used the French Foliage stamp set (one of my recent acquisitions - loving how these stamps combine!) to stamp a nice grungy, vintagey collage using Tea Dye distress ink and then tore the edges of the card and blended Tea Dye distress ink around the edges. I matted the stamped image onto the double embossed card and mounted that onto corrugated card before attaching to the card front. To finish off, I ran shimmery brown card through the BigShot using the Beautiful Butterflies embosslit. I highlighted the debossed areas of the butterflies with a bit of gold oil pastel, bent the wings up a little and attached them to the card. I also stamped Amour (from the Clearly For You stamp set) and cut it out, inked the edges a little and attached using foam pads.
I love how this turned out. It's a bit grungy and a bit vintagey but it's still Stampin' Up! :)