*Ahem* Remember how I was having a big tidy up and clear-out in my craft room?
Yeah. Not so much, as it happens. :/
I got part way through the process and then got derailed. Initially by interference from hubby who decided to have a bit of a tidy himself... unfortunately, his definition of "tidying" basically amounts to picking up everything that he thinks is where it shouldn't be... and dumping it in my craft room/office! I have tried to point out to him that this isn't actually tidying, it's just dumping stuff on me so that I have to tidy it, but he can't seem to see how this is an issue. :/
So I've had to hold off on the craft room tidy until I can clear away the extra layer of crap that hubby added to the chaos, and on top of that I've had to abandon tidying anyway in favour of prepping for a workshop tonight.
So this is what the craft pit looks like this morning. *sigh*
The floor space is mostly taken up by a giant bin bag of rubbish, various bits and bobs mid-sort out, and my artbin box being packed for the workshop. The usual work area of my desk is buried beneath crafty stuff and stuff that hubby dumped: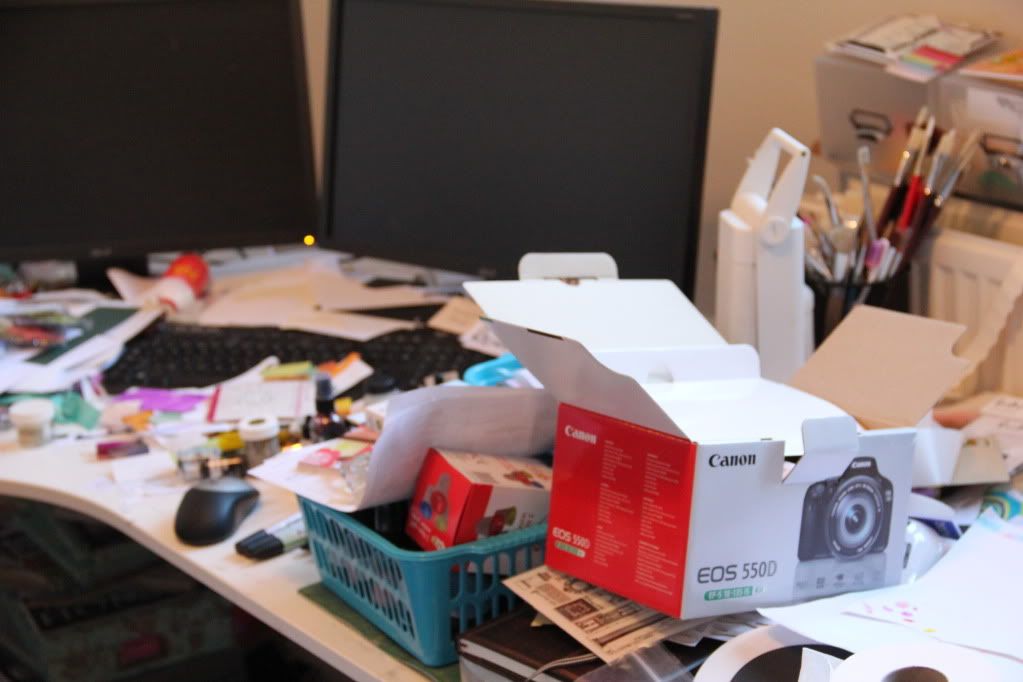 And I've had to do my crafting/prep at the other end of the desk, which I had previously cleared!
One nice feature of the newly-"recovered in crafting debris" desk though is that I finally got around to getting a fabby Color Caddy for my Stampin' Up! inkpads, rather than having them piled up loosely in a box on the Expedit. Now I just need to work on filling it! :lol:
Thanks for stopping by my desk - have a fun WOYWW and I'll hopefully have a tidier room to share next week! :lol: (I always seem to say that, don't it?)