Yargh. What you see on my desk this morning is an exercise in frustration.
You see, I recently bought a rather funky looking doily die. "How fabulous!" thought I. "I can make doiles to match my projects, as many of them as I like! Yippee!"
Or... not. Now, it's an intricate die and I'm not daft... I realised there would be some work involved in popping out all the teeny tiny little pieces. However, as it turns out, there's a lot more to it than "popping out"... mainly because even after being run through the BigShot twice (turning 90 degrees between runs through), the darn thing *still* didn't cut completely through in places. So I've ended up having to push and pull with a pokey tool, and occasionally try and re-cut lines with a craft knife, and generally it's taken me faaaaaar longer than I even care to think about to produce just one usable doily (and I wouldn't look too closely at it as there's a fair few ragged edges here and there).

So that's what I've been doing at my craft desk - that and a lot of swearing! :lol
So, to end on a more cheerful note, I shall also share with you the finished CJ page that I made using the background that was sitting on my desk in last week's WOYWW post: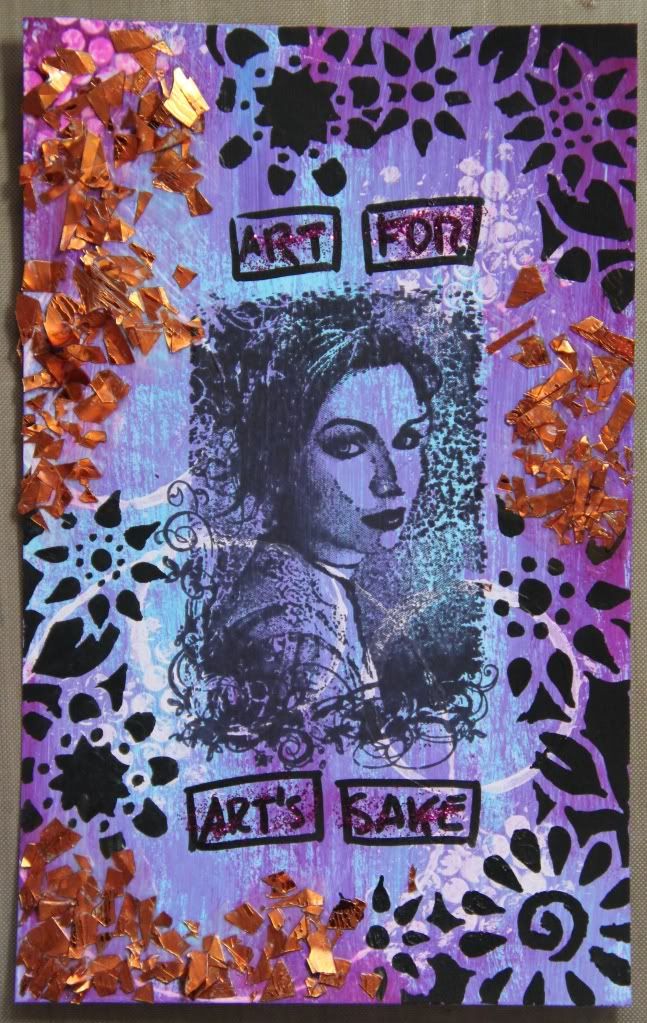 I used a Dylusions stencil and a Stempelgelde stamp and handwrote the journalling. The CJ is now winging its way to the next recipient.
And that's it from me this week. I've stayed up faaaaar too late (or early, really) fighting with that doiley so I am taking myself off to bed! :)