My DT card for
Sweet Pea Stamps
this week is what I've ended up calling "mostly monochrome" - i.e. black and white with one other colour. :lol:
My starting point for this card was one of Ching Chou Kuik's gorgeous digi stamps - this one is called
Restless Thoughts
:
I started by colouring her hair black and from there I was taken with the idea of giving her a white dress.. and that lead to the whole monochrome thing, with just the red of the toadstools adding a splash of colour.
I also had the idea with this stamp of, instead of colouring in the background, cutting it out and layering it over a patterned background. I chose to use some gorgeous monochrome Floral Fantasy
digi paper from Crafts and Me:
To add an extra touch of detail to this image, I wanted to give her shimmery wings. To achieve this effect, I printed the digi image a second time on scrap paper (making sure I printed it the same size as the image I had coloured in) and carefully cut out the wings from the scrap paper image, making a mask which I could then lay over the coloured image, lining up the edges carefully, leaving just the wing areas exposed. I then pressed a Versamark ink pad over the exposed wing areas, lifted up the mask, and covered the inked wing areas with a fine holographic embossing powder. After tipping off the excess powder (and carefully using a soft brush to clear away any stray specks of powder from other parts of the image), I heated with a heat gun to melt/set the powder: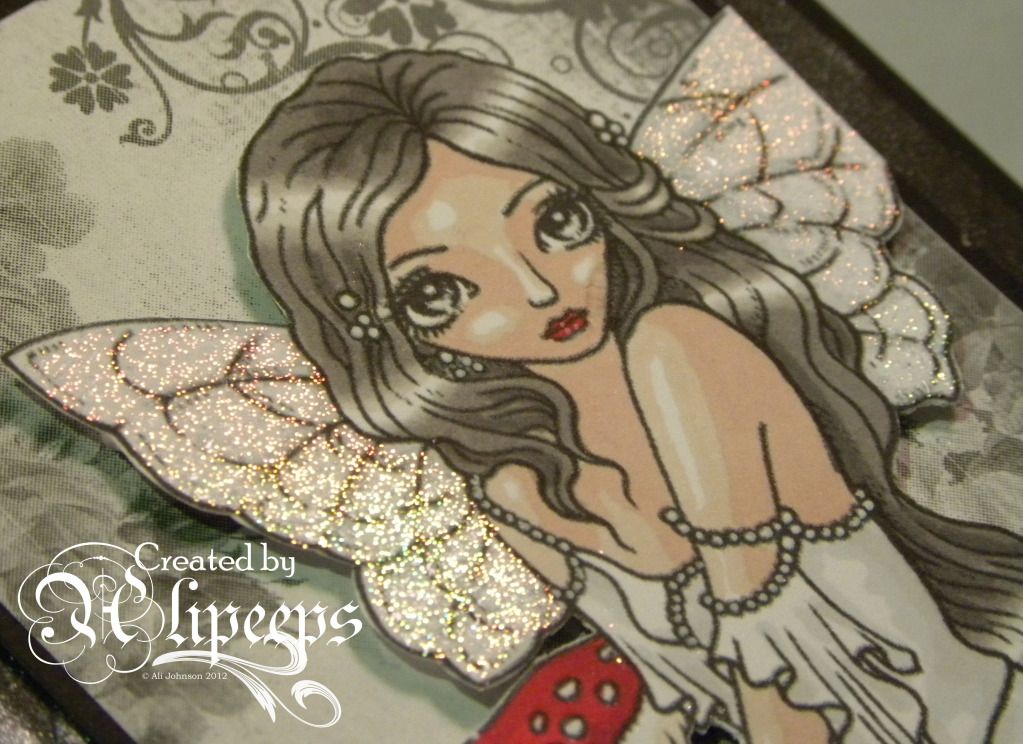 I kept the rest of the card simple and monochrome to match with the image. I used a black card blank and embossed a panel of black card using an embossing folder. I then swiped Versamark ink over the raised areas of the embossing and brushed silver pearl Perfect Pearls over it.
All in all, a fairly clean and simple design but with lots of pretty little details. If that's not a complete contradiction! :lol:
I'm also entering this card into the following challenges:
Dilly Beans - Black and Red
City Crafter - All That Glitters
Flourishes Timeless Tuesday - Seeing Red
Paperminutes - Faces
Craft Your Passion - All That Glitters