Wow! 200! Where do the weeks go, eh? :)
This is a quick WOYWW post from me before I head to bed (as per usual, much later than planned!).
The desk has remained reasonably tidy... the bits and bobs on ongoing crafting are building up a bit around the edges but I'm keeping fairly on top of it and a workable crafting space remains:
There are a few projects in-progress on the desk - coloured digi stamps, a completed card (turned away from the camera, I'm afraid, as it's a DT one), and a newly-made card blank. And can I just say, once again, how freaking awesome my Cameo is? :D The card blank sitting on the desk is a centre stepper card. And instead of the usual fiffing and faffing of measuring and scoring and cutting, I simply cut it out on the Cameo. Bish bosh bash, done! :D
I'm busy not only with crafting these days but also with planning and organisation for what's turning out to be a very busy month! We're off for a week's holiday en famille at the end of the month, including attending a family birthday celebration, hubby and I are leaving the kids with my mum overnight to swan off to a friend's weekend in a couple of weeks.... and on Friday of this week, this wild-haired little lady is going to be turning 4: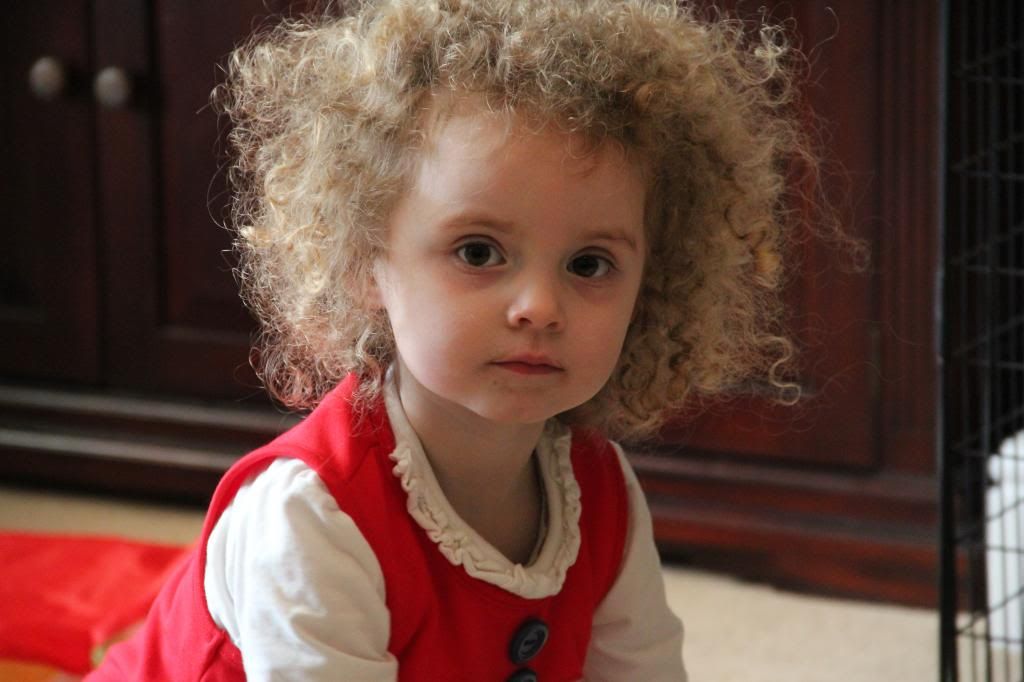 4 years old. Wow. How on earth did that happen? I can't believe she's so grown up. She's going to be starting full-time school in September! Eeep!
So, on top of everything else, I'm busily organising a party for 15 or so 3-4 year olds, sorting out and wrapping presents, ordering a cake etc etc etc! :D
Oooh I did find time tonight though to make a very quick card.... I had ended up with lots of bits and bobs of scraps lying around on the desk from various projects and I decided to challenge myself to make a card using nothing but what was sitting on my desk - that includes paper scraps and tools:
So I used a white card blank, a pale pink inkpad and a Stampin' Up! stamp (from the Lovely Trees set), some pink Stickles and some negative leaf flourishes and punched butterflies. I quite like how the leaf flourishes turned out... they started out as scraps of card from which I had die-cut leaf flourishes and I decided to fussy cut around the cut-out sections to give myself a sort of outline shape.
The butterflies I punched from the remaining scraps of card using a Stampin' Up! punch which was still on the desk. :)
Anyhow, that's enough from me. A busy Wednesday awaits so I really must head to bed! Thanks for stopping by - hope you're having a fab WOYWW.