I was recently lucky enough to do a
Guest Designer
spot for
Stampotique
. I love their cute and quirky stamps and as they are now having a
DT Call
for folks to join their Design Team for 2104, I just had to jump at the chance to work with them again. :)
So here's a fun little creation I made as a DT Call entry.... *
I decided to make a little wall-hanging. :)
I used one of my favourite Stampotique stamps - Smile - and his cute little heart made me think of the saying, "Home is where the heart is" so I made a little house from thick board.
I covered the roof section with a piece of gelli plate print that had a nice texture and "roof-ish" red colour....
...and I covered the main part of the house with cardstock which I'd coloured using Dylusions sprays and a stencil. I inked all the edges of both parts of the house with black ink before attaching the roof section. I sprayed more card with Dylusions inks in shades of red and doodled a door and doodled windows onto old book pages that I spritzed with more Dylusions in blue shades. I cut these out and attached them to my house and added the sentiment which I hand-wrote onto old book paper and cut out. I cut the top of a gold brad and glued it in place as a doorknob.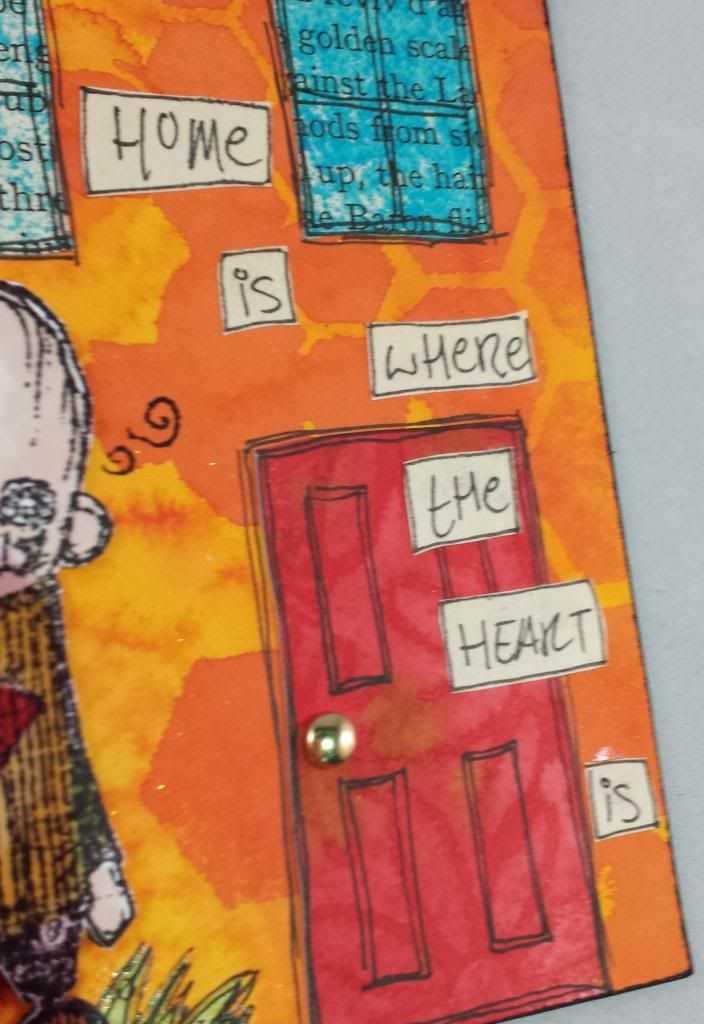 To finish I stamped my image onto the house (to capture the external detail of the image) and stamped him again onto white card, colouring him with my Promarkers before cutting him out and attaching him over the image on the base, using clear sticky pads to give him a bit of dimension. I also gave him a little bit of grass under his feet (doodled and cut from old book pages spritzed with green Dylusions ink) to ground him.*
Finally I attaced a rusted-effect wire hanging to the back of my piece to allow it to be hung up. :)
I'm rather pleased with this cheerful, brightly-coloured piece and I hope the good folks at Stampotique like it as much as I do. I love the quirkiness and unusualness of Stampotique stamps. I think my own crafting style is quite changable, depending on the products/medium I am working with, but I do find that working with Stampotique stamps pushes me to be more creative, to play with lots of inking and stamping techniques and making my own backgrounds etc, and to really go to town with colour. :) I really enjoyed doing my GD spot for Stampotique and would love to join the team for a longer period and get the chance to work again with such a lovely, talented bunch of people.

Now I just have to decide where to hang my little work of art.... :)
*I must apologise both for the lesser than usual quality of my photos (my crappy slow netbook has now died meaning that I can't download photos from the data card from my camera so I have had to resort to using my phone to take these photos - thankfully my beloved laptop is being delivered tomorrow after having been repaired so once DH reinstalls the operating system, I'll be back in business!) and for the fact that Photobucket appears to be once again playing silly buggers and randomly rotating or squidging my photos for no reason!! :/ I'll replace these with some better (hopefully, right way up!) photos over the next day or so. :/