Wow. D'you know, until I logged onto Blogger this morning and looked at my dashboard, it hadn't even occured to me that today is Wednesday! :lol: That's how out of sync and all over the place I am after the insanity of the last week or so!
I feel like I've barely stopped for a week! I spent days running around getting things ready for DD1's third birthday, then we had the day of her birthday, then we spent a day tidying the whole house before guests arrived on Saturday. Then we had the weekend with houseguests, meaning a total of four children under 4 years old in the house! Lots of fun but restful it was not! :lol:
Monday we had a bit of a lazy day and then yesterday started off nice and relaxing, with DD1 in nursery for a whole day for the first time (she had been doing one half day a week until now) and just DD2 to look after... and then it all fell apart when I went to collect DD1 and she firstly threw a mega-tantrum about leaving (she was having that much fun!) and we then realised that a dippy staff member had let her put her tiger and crocodile toys (that go everywhere with her) in another child's bag, and that child had already gone home! And thus began 2 hours of stress trying to calm down a hysterical DD1 and wait for the nursery to get hold of the other child's parents (the mother had walked home with the child so it took them ages to get home, so no answer on home phone, and she wasn't answering her mobile either!) and then arrange with them to collect the toys, get the kids in the car and go and collect them (not forgetting the added stress of hitting a stray dog that ran out in front of the car on the way there - thankfully I can't have done him too much damage cos he ran off down the middle of the road!!). Yeesh!
Hence why my head is all over the place and I've pretty much lost track of what day it is! :lol:
But anyway, it is Wednesday and that means it's time to share what's on our workdesks. So here's mine: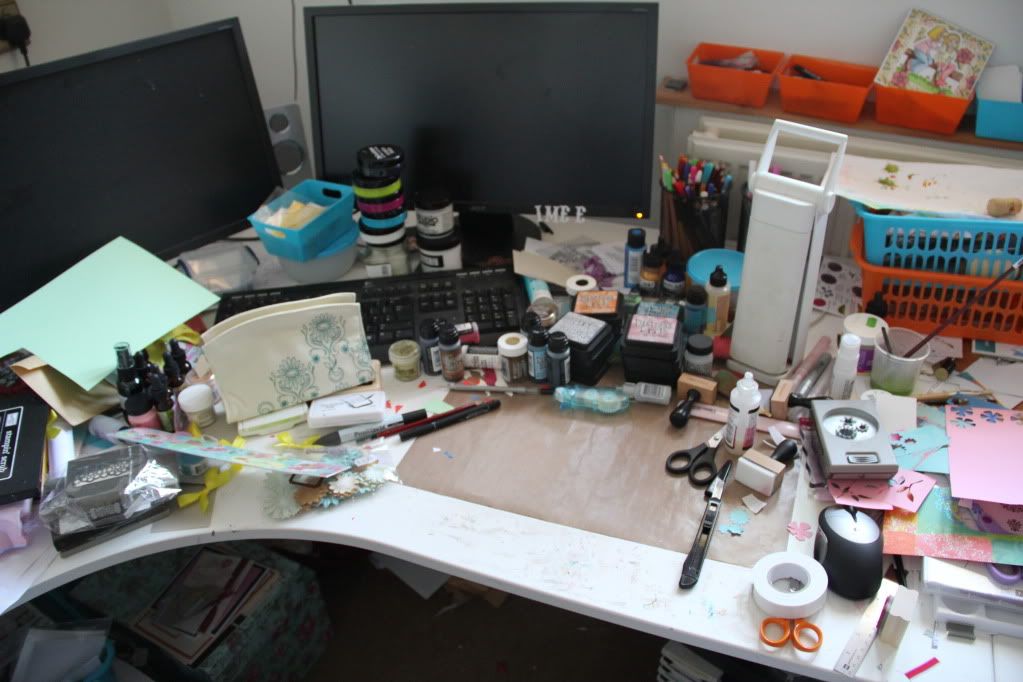 It's a bomb site. Tidying hasn't happened yet and there's a teeeeeny space left on the craft mat, just about enough to be able to craft in (I know cos I cleared that space so I could make a card yesterday! :lol:).
Tidying is urgently required now. It's reaching crisis point! :lol:
Thanks for stopping by for a belated peek at my desk. Hope you're having a good Wednesday - and a slightly less manic few days than I am! :D