The DT were given a gorgeous mini kit to create with and this is the result of my endeavours:
I made 3 cards (and tbh have enough bits left over to probably make another 2-3! :D). I loved the colours in this kit - the warm brown and creams, with a touch of soft yellow, are perfect for either masculine or feminine cards. I'd like to think that my creations could be just as suitable for a man as for a woman - which just goes to show you that with the right papers/colours, even butterflies can work on masculine cards! :)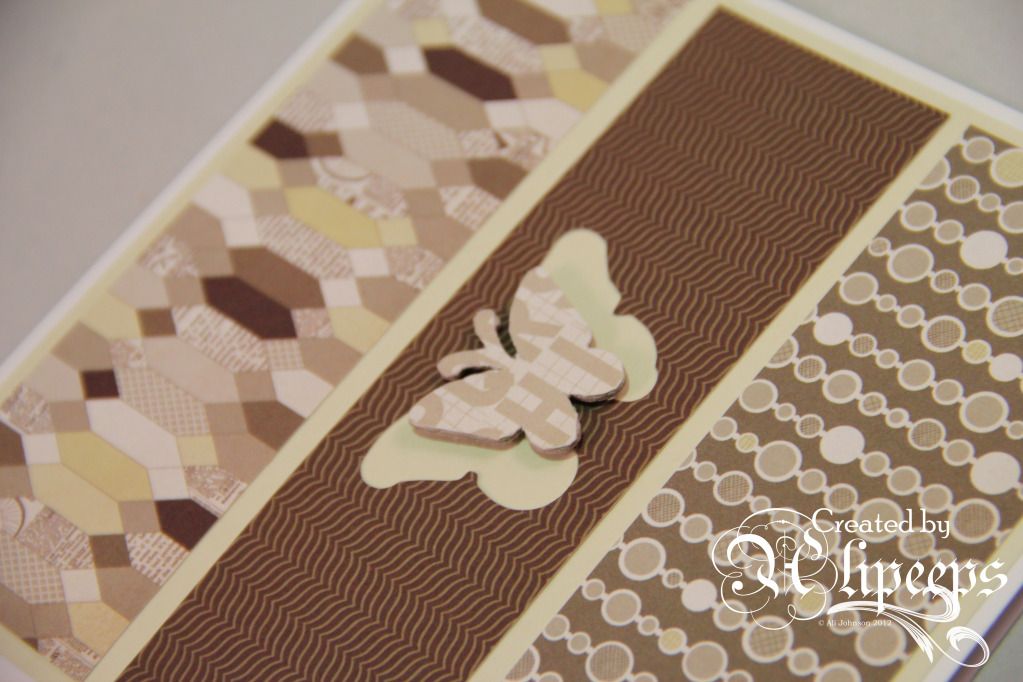 For this card I used three strips of patterned paper against a cream card base. I used a Tim Holtz Movers and Shapers die to cut a butterfly shape out of the centre strip. I covered one of the chipboard butterflies from the kit in more patterned paper and attached it over the butterfly apperture.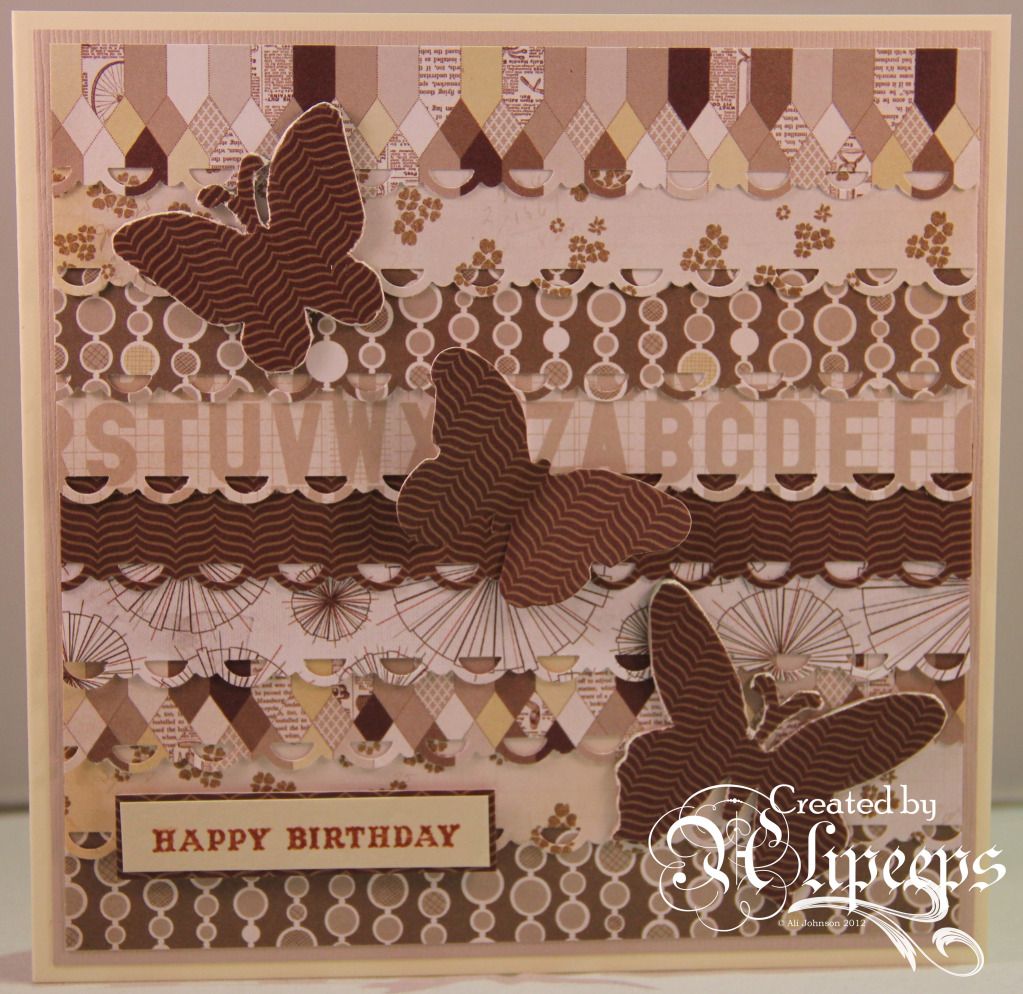 On this card I went mad with the patterned papers, layering border-punched strips of all the papers from the kit onto a beige card base. I covered two more of the chipboard butterflies in the dark brown patterned paper and added them to the card, along with the butterfly shape I'd die-cut out of the paper stip for the card above. To finish I stamped a sentiment onto cream card, matted it onto patterned paper and attached with foam pads.
Finally, I made a masculine Valentine's card. To start with, I rounded the corners of a white card blank and then layered cream and beige card, rounding the corners on each. I cut pennants from three patterned papers and layered them onto the card, letting them overhang the edge. I cut a panel of brown card, rounded the corners, and ran it through a Tim Holtz embossing folder. I inked over it a little with Tea Dye Distress Ink and inked the edges then attached it with foam tape, tucking the little tag under the edge.
For the buttons, I coated the chipboard buttons in Tea Dye Distress Ink and heat embossed them with clear embossing powder. I then inked them again, randomly, and added Vintage Photo Distress Embossing Powder, knocking some of the powder off before heat embossing. The result is a fab "rusted" effect. I tied baker's twine through the buttons and attached to the card with foam pads. For the title, I cut letters from patterned paper and glued them onto beige cardstock and cut it into pennant shapes before attaching.
And that was my little trio of cards. :)
You can be in with the chance to win yourself one of these gorgeous mini kits by entering the mini kit challenge - just make a project measuring 12x12" or less and link your entry up at the CCW blog.