Another week, another Wednesday, and the Christmas holidays are well and truly over and we're back into the routine of school runs and kiddy classes! *sigh* It all seemed to go so fast, didn't it? :)
Things haven't changed much here in the craft room.. it's still desperately in need of a tidy (what else is new?) and reorganise... but I did clear up the workspace area a bit... mainly cos I couldn't find my black Memento inkpad and suspected it was somewhere under the accumulated bumf! :lol: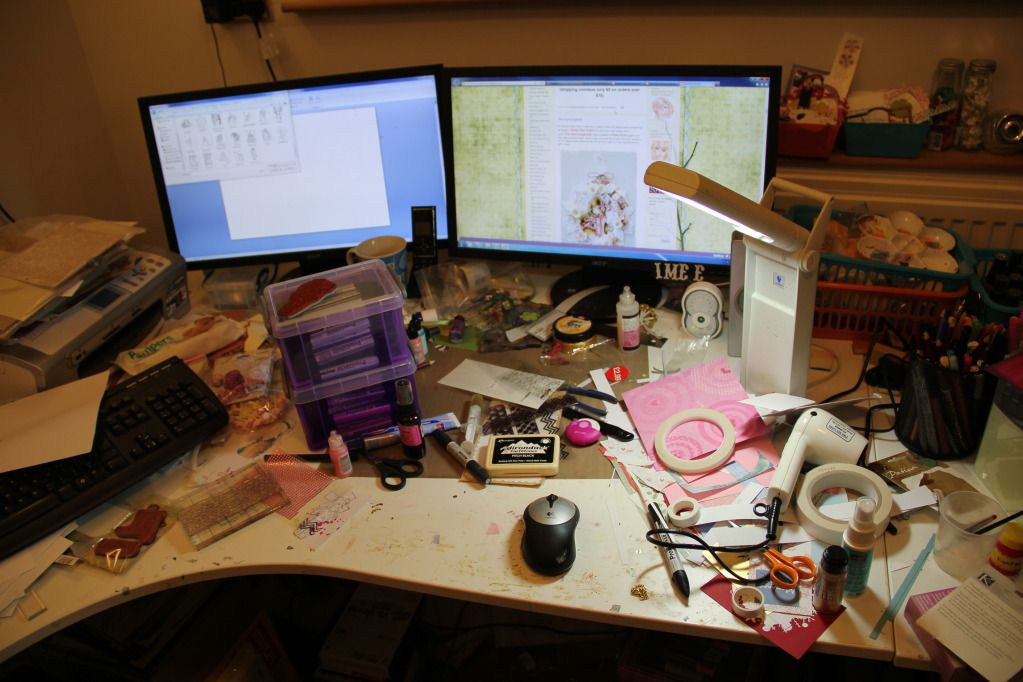 I did actually get in my craft room earlier this evening and made two cards but sadly I can't share them here cos they're both DT cards! Ah well. You'll be seeing them soon enough on this blog. :D On the desk this early Wednesday morning you can see some of the bits and pieces I used in creating them.
I haven't been in the craft room a lot this week tbh. I usually spend my weekday evenings between the lounge and the craft room (conveniently right next door to each other), either watching TV (and often colouring digi stamps as I do) or crafting. However... my lounge currently looks like this:
Yup, we've got the decorators in! So all the furniture is pushed into the middle of the room and the TV etc is disconnected and moved elsewhere. By the end of tomorrow the walls should be a lovely pale gold colour.
All of which means that, for the moment, for tv watching purposes (or, more accurately, my Seasons 1-7 Criminal Minds DVD boxset which I am still ploughing my way through), I am banished to the playroom which is right at the other end of the house. So I am a lot less likely to flit between the tv and the crafting, as doing so involves a flight of stairs and moving the baby monitor and other necessities along with me. Tonight's the first night that I've managed to get any serious crafting done.
Ah well. The lounge should be finished over the next couple of days (and then I have the fun task of reconnecting the TV/Sky box/BluRay player/hard drive etc to the plethora of random cables!) and I can go back to my comfy evenings of tv and crafting.
I might even share a picture of the finished, redecorated lounge in next week's WOYWW post. :)
Thanks for stopping by - hope Wednesday treats you well! :D