Well, this will be my last WOYWW for the month of June as I am about to be separated from my workdesk for a whole two weeks - *sob*! We're off on hols on Friday - two weeks in a gorgeous chateau in France with a bunch of family. Am soooo looking forward to it... although could do without the stress of trying to get organised and packed for myself and hubby and two small kids!
Anyhoo... here's what's on my desk this morning:
Amongst the usual debris (and believe it or not, this is better than it was - until a couple of days ago I had pretty much my entire collection of spray inks crowding all over the desk!) is my recently completed Father's Day card for hubby. We'll be in France for the big day so I've had to have his card and pressies ready in advance to pack and take with us.
Oh and somewhere under this pile of chaos...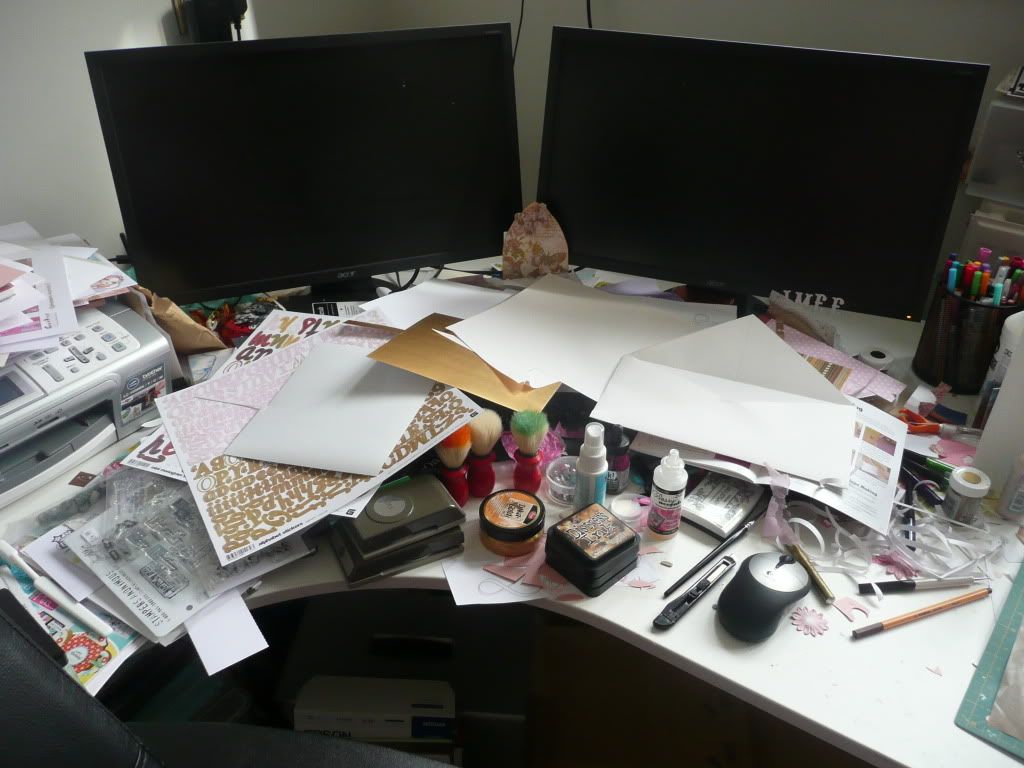 ... is a computer keyboard! :lol:
I have no time to tidy atm as I am frantically trying to get certain projects (like the card for hubby and some backgrounds in my art journal to take with me to France) finished before we go. So the crafting debris is building up at an alarming rate. When I get back from holidays I will get in here and have a proper tidy and reorganise. I promise!
Thanks for stopping by - hope you're having a great WOYWW and that the next two weeks are kind to you. I doubt I'll be able to log on much, if at all, while in France so I'll see you in July folks! :)