I love it when a couple of my different interests coincide/collide... :)
I love making ATCs and I occasionally swap a few in private swaps over on
ATCsforAll
. There's a lot of organised swaps going on over there too but I'd never taken part in them before... however, I've been tempted in recently because there's a Doctor Who-themed swap happening! :)
I love Doctor Who. Well, I should say, I loved Doctor Who. I still watch it and enjoy it etc but, as good an actor as Matt Smith is, he just doesn't grab me the way David Tennant did. It's still a great show, but I'm not hooked on it - and fannish about it - the way I was. 10th Doctor will always be my favourite Doctor.
So of course, I just had to make my cards for the ATC swap 10th Doctor-themed. I made 5 cards in all (3 for the swap, 1 for the swap host and 1 for myself):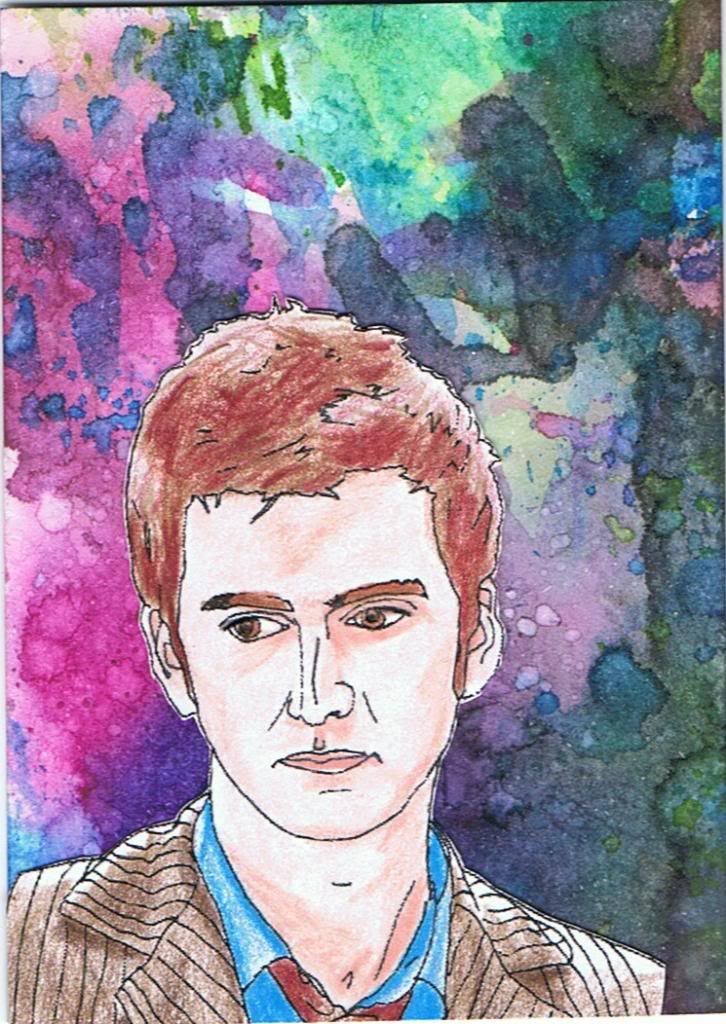 I had the idea of putting images of the Doctor in front of a "Wrinkle-Free Distress" technique background, as the splodges of colour this technique creates rather puts me in mind of some fabulous exploding supernova or beautiful gas cloud in space. :)
I drew the images up into digital line drawings so I could print them the size I wanted and then coloured in the printed images using my Prismacolor pencils. I then cut them out and attached them over the backgrounds.
I liked these images so much that I thought I might make a couple of them into digi stamps. One of my OSAAT DT teamies was very taken with the idea as she has someone to make a card for who's a Doctor Who fan so I went ahead and did it and these two digi stamps are now available in the Stitchy Bear Digi Outlet. :)
My Whovian BIL has a birthday coming up in just over a month so guess what he might be getting on his birthday card? ;)