Here's a little card I made to give to our neighbours.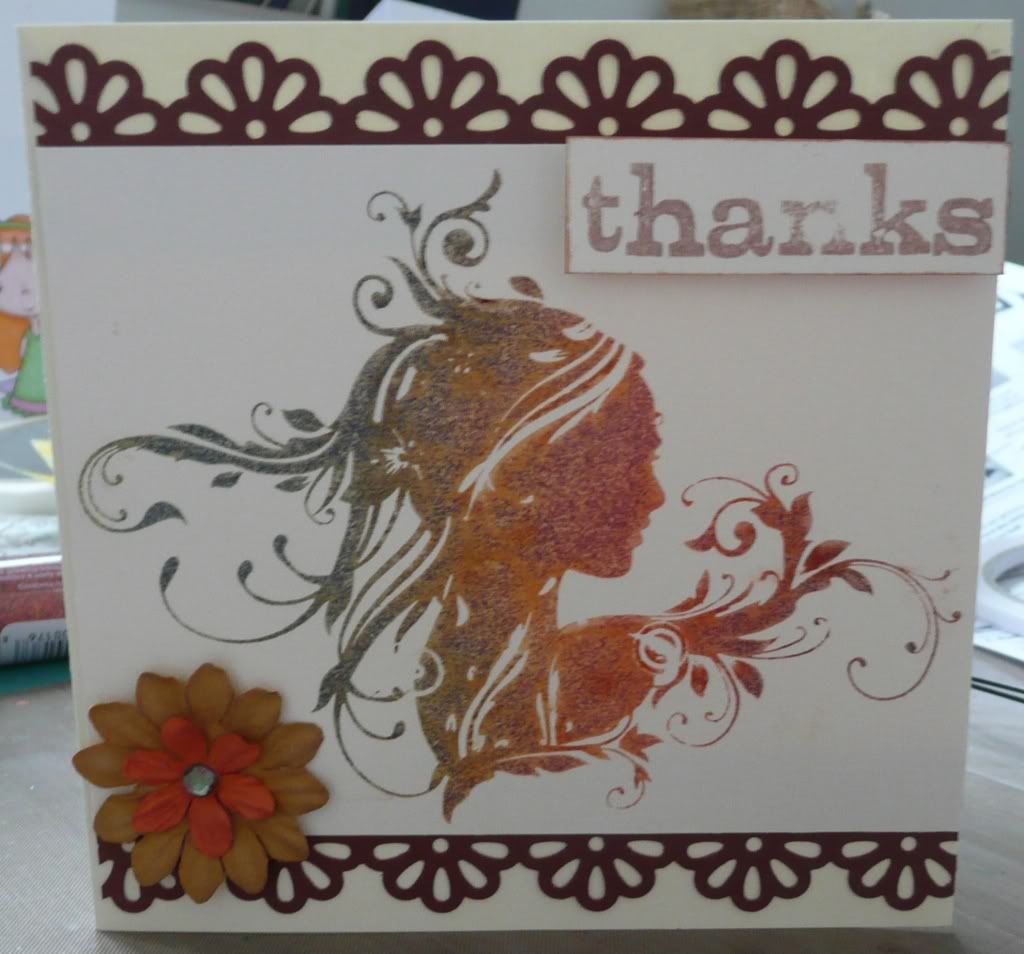 There's quite the story to go with this card... you see, despite living here for c. 18 months, we've only recently met our neighbours (I say neighbours... we don't actually have any houses next to/near ours... our nearest neighbours are up on the main road, c. 100 yards or so away). And we met them under rather unusual circumstances!
On Monday evenings, I go to my WeightWatchers meetings. As DH works away during the week, my mum usually comes over to stay with me for a couple of days during the week to help out with the kids etc so she is usually here to keep an eye on the girls while I go to my meeting. This last week mum was otherwise occupied (having a a girly break in Liverpool with her best friend that she's known since she was 14!) but DH was working from home on the Monday so I was still able to go to my meeting. So I left him in the kitchen, with both the girls with him, starting to cook scrambled egg for DD1's dinner. I was a bit late leaving and realised I'd left my phone upstairs and couldn't be bothered to go get it so I told DH I hadn't got my phone (he later claimed not to have heard me as DD2 was fussing) and that I'd be back just after 7pm. I left the door on the latch but took my keys with me anyway.
So I got back at 7:05pm, went to open the door and it didn't open. So I thought, for whatever reason, DH must have taken it off the latch. I put my key in the Yale lock and turned it. No joy. Door still wouldn't open. Tried the key several times with increasing frustration and still no success. So I started ringing the doorbell and banging on the door. Now admittedly, it can be hard at times to hear the doorbell/doorknocker in our house. But I was *hammering* on that door over and over and over! At that time of the evening the kids are usually fed and in the living room having watched the bedtime hour on cBeebies so I assumed they were in there and that maybe DH had dozed off on the sofa (not uncommon!) and couldn't hear my desperate hammering!
So I decided my only option was going to be to get back in the car and drive to a phone so I could phone him! As I was walking back to my car, I saw the chap from up on the main road walking his dog in the industrial estate next door. I've often seen him doing this but have never had occasion to bump into him/chat to him. So I hurried over to him and asked explained my situation and asked him if he by any chance had a mobile phone on him that I could use to phone my feckless DH! :lol: He didn't but he very kindly offered that if I came back up to his house with him I could use his home phone to call. So I duly went with him and he introduced me to his very lovely wife who was very sympathetic and they let me borrow their phone to phone DH. No answer. I tried probably 10 times and each time it rang and rang and rang and then went to answerphone. By now I was getting positively frantic with worry, wondering where on earth my husband and children were that I couldn't contact them, imagining all sorts of disastrous scenarios involving DH having somehow injured/incapacitated himself and the kids left unsupervised in the house. I was starting to think I would have to phone the police to gain entry to the house... when out of the window I suddenly saw DH walking past, pushing a pushchair and holding DD1's hand!!
I rushed outside, accompanied by the neighbours, frantic with equal parts relief at finding them safe and fury at DH for putting me through so much worry! The neighbours were lovely - Anne coo'ed over the baby and teasingly informed me that she was available for babysitting and Alan accompanied us back down the slope towards our house, continuing his interrupted dog walk, and telling us a lot of interesting stuff we hadn't known about the history of our house and the surrounding land.
And the reason for all the panic and stress? DD2 had been kicking off and shouting the place down so DH "couldn't" cook dinner for DD1 and felt his only option was to take the kids out for a walk (I had the double buggy in the boot of my car so he'd had to put DD2 in the single buggy and have DD1 walk holding his hand). The reason I hadn't been able to get in the house was because he'd locked up when he went out, locking the main (non-Yale) lock as well (never even occured to me to try and unlock that lock to open the door because it never occured to me that DH and the kids would have gone out at that hour!!). He'd tried to text and phone my mobile but of course I hadn't had it with me. As for why he didn't get home until gone 7:15pm when I'd told him I'd be back at just after 7pm, who knows? So there we were, at 7:25pm with DD1 still not having had her dinner and the kids normally go to bed at 7pm! Makes me wonder how on earth he thinks I manage with the two kids alone during the week? I don't have the option to take them for a walk and wait for someone to come home to help me out - if the baby's crying when I need to cook dinner for DD1, then I just have to muddle through and e.g. cook something quick and simple so that I can try and soothe the baby.
Anyhoo. So that is the long and rambling tale of how we finally met our nearest neighbours and why I made them this card to thank them for being so sympathetic and tolerant of an increasingly stressed and panicked mum! And to invite them round for a glass of wine or two this weekend, an invitation that they have kindly accepted. So I guess in the end it was worth all the shenanigans DH put me through if it means we get the chance to get to know our neighbours better and hopefully become friends (and I may yet end up taking Anne up on her offer of babysitting services! :lol:)
P.S. As for the crafty bit - the card is made using an Indigo Blu stamp inked with Spice Big n Juicy inkpad and stamped onto cream shimmer card. The borders are cut from brown card using a Martha Stewart edge punch and I added Prima paper flowers with a Papermania gem for the centre and the sentiment is stamped in Sepia Versafine using a Hero Arts clear stamp and is cut out, edged with Tea Dye Distress Ink and attached with foam pads. :)