I've been experimenting again... this time using ProMarkers on acetate. The challenge here of course is that to stamp on acetate you need to use StazOn... but you can't using ProMarkers with StazOn as they're both alcohol-based so the ProMarkers make the StazOn bleed. So... the solution is... stamp the image with StazOn on the front of the acetate... and then use ProMarkers to colour in the image on the reverse side of the acetate, so the colours show through the stamped design but don't actually come into contact with the StazOn ink. :) ProMarkers on acetate give an interesting effect but I find bright/intense colours best to work with as the paler colours really don't show very well on the acetate.
Here's the card I made: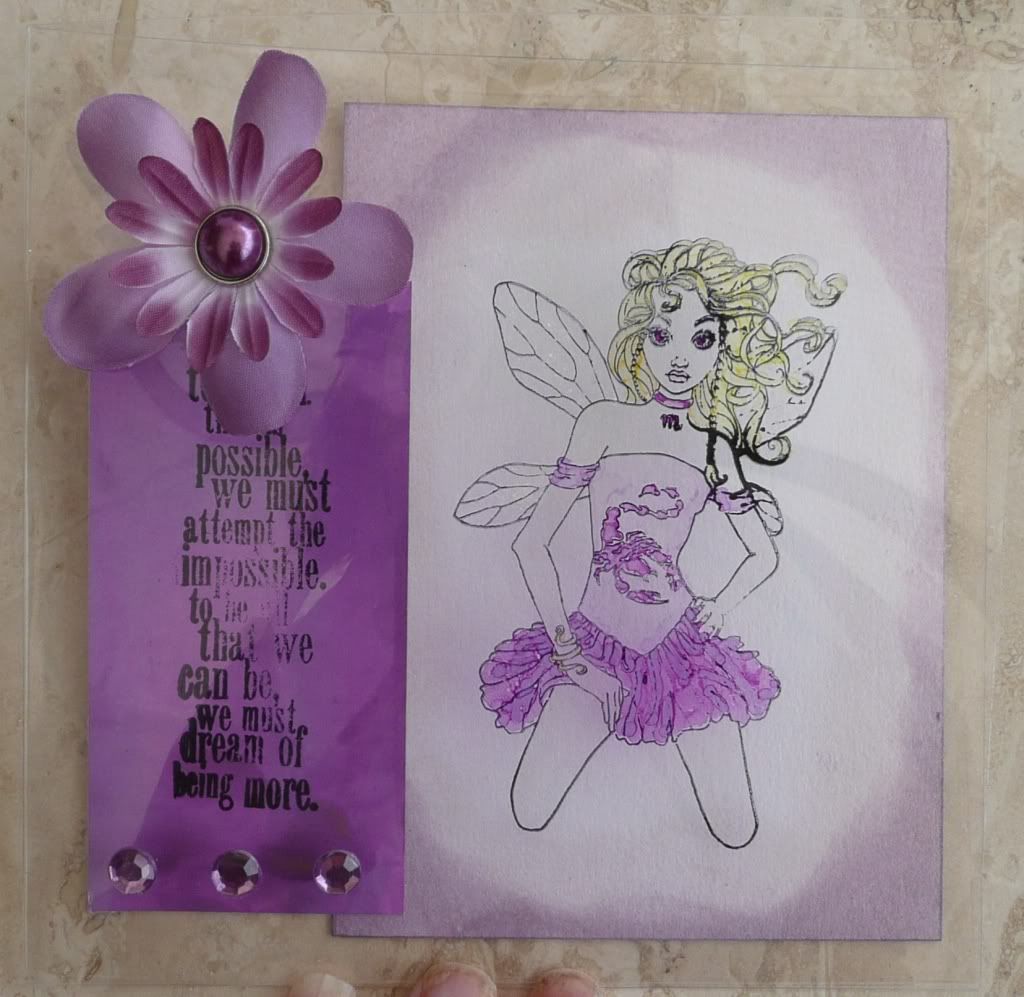 Now, the downside to making an acetate card is that it has proven incredibly difficult to photograph well! :lol: So please take my word for it that this looks a lot better in real life than in these photos! ;)
The image used here is a Caron Vinson design from Sweet Pea Stamps - isn't she funky? (And I'm a Scorpio, as it happens, which makes me like her all the more.) To make this I cut and folded a piece of acetate to make my card blank then stamped the image in StazOn onto the front of the front side of the card and coloured her in with ProMarkers on the reverse of the front side of the card. I then added some Rock Candy clear Stickles over the wings on the front side of the acetate to give a bit of shimmer.
For the inside of the card I cut a piece of white shimmery cardstock and inked the edges with Milled Lavender and Dusty Conchord Distress Inks before attaching to the inside of the card. I then smooshed glossy card through alcohol inks and cut a small panel and stamped a Tim Holtz sentiment stamp onto it using Archival ink and layered this slightly over the larger panel inside the card. To finish off, I added layered fabric flowers to the front of the card, attached with a decorative brad, and added a few gemstones, placing them so that they sit evenly over the bottom of the alcohol-inked panel when the card is closed.