Welcome one and all to What's on Your Workdesk Wednesday, wherein willing souls worldwide welcome you to wander from workdesk to workdesk, wondering at the wealth of workmanship wevealed... ooops, revealed!
Sorry, about that... maybe it's the late hour but I got a bit carried away with the W's there! :D
But yes, it is indeed Wednesday once again and time for a peek at the desks of WOYWWers the world over, as hosted by the ever lovely and inspiring Julia over at her Stamping Ground blog. This week's post from me is being scheduled... although it is already Wednesday as I write this. By the time this post goes live in the morning (proper morning, not "Oh my, I've stayed up past midnight again!" morning) I will be in the midst of trying to get myself and two small children up and dressed and fed and out the door in an effort to be on time for dentists appointments for all of us! (On the one hand - yay, I finally got us registered with an NHS dentist! - on the other hand - boo, dentists appointment!).
So think of me, opening wide for the dentist's unforgiving scrutiny, as you take a peek at my desk...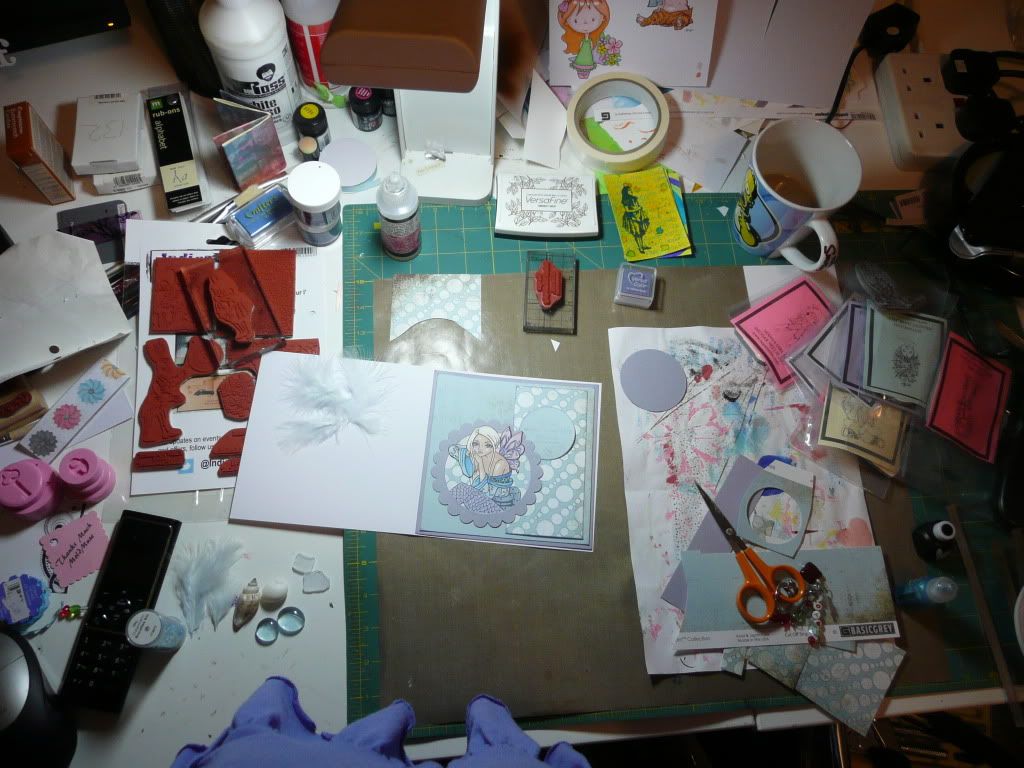 Today's photo finds me mid-creating, once again playing with yummy Sweet Pea stamps images. You will however also notice a bit of a change on the desk this week... a distinct lack of usual clutter... and even bits of desk visible between the crafting goodies and gadgets! Yes, I have had at least a partial tidy... it involved sorting through the piled up debris covering the entire desk, sorting the "to keep" stuff into piles on one side (to be put away somewhere - in theory!) and chucking the rest - mostly paper scraps - in the bin!
Other highlights of the desk today include my scrummy new Sugar Nellie stamps which arrived today and have already been mounted and await playing with:
Some completed ATCs for a swap:
And some rather yummy push molds which arrived today all the way from the US of A!
So that's it for my desk this week. Thanks for stopping by and please do leave a comment to say hi. Hope you have a lovely Wednesday (let's face it, unless you've got a dentists appointment too, it's gonna be better than mine!) and an entertaining WOYWW! :)