Okay, I am blaming this one squarely on
Sarah
! :D
Knowing full well what a stamp addict I am, she callously pointed me in the direction of
Sugar Nellie's blog
. And of course I had to go have a look at the shop, and that was it... what little willpower I have (i.e. next to none!) went out the window and I ended up buying yet *more* stamps! :lol: And I
really
didn't need to buy any more stamps this month!
But I couldn't resist cos the designs were just so yummy. And because I am an impatient little crafter, I had to include a couple of the pretty digital images in my order, so that I had something to play with while waiting for my stamps to arrive. :)
And play I have (not the best photos - apols for that - the light in my conservatory seems particularly grey and gloomy today):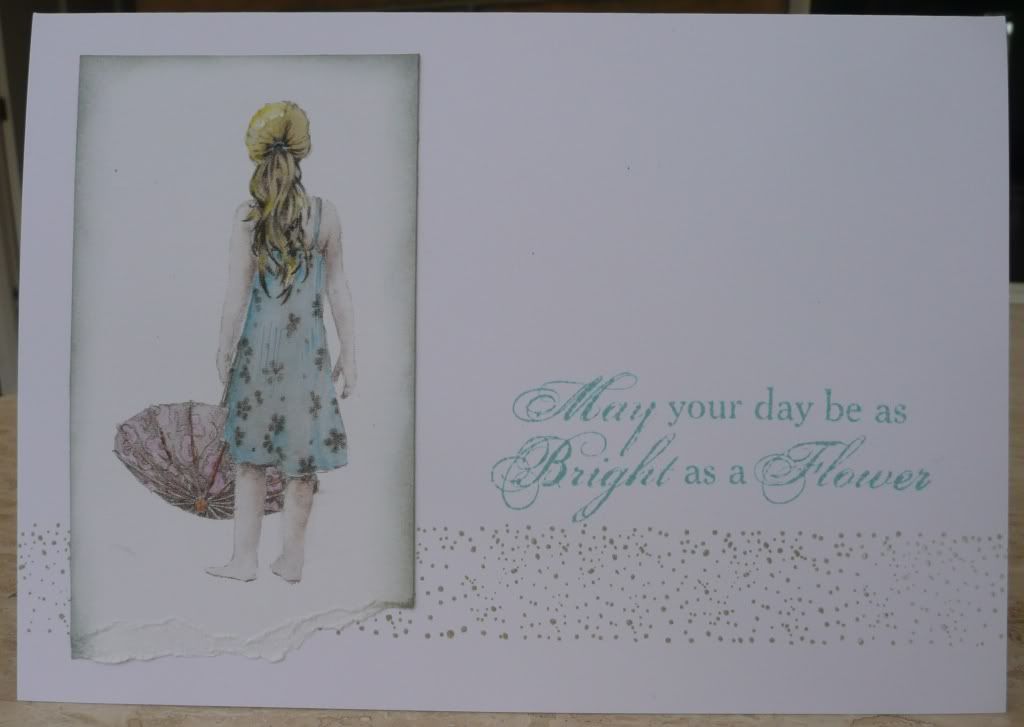 I don't know about you, but when I printed out these lovely shaded images, they just cried out to be coloured with pretty, soft watercolours. So I abandoned my beloved ProMarkers and dug out my watercolour pencils. I think the results are just so pretty and delicate.
I used the finished images to make a couple of quick cards. I kept the first one really simple because the image was just so striking, and somehow, melancholy. It made me think of the seaside, for some reason, so I inked the edges of the image with Weathered Wood Distress Ink and on a white card base I used Stampin' Up!'s Sandy Speckles Stampin' Wheel with Crumb Cake ink to make a sandy border and added a simple sentiment in blue ink.
For the second card I went with pretty, pastel pinks and blues (from a Papermania stack I've had lying around for ages) to coordinate with the colours in the image. I matted the image onto pretty pastel pink sparkly card and added pink velvet ribbon and a big layered flower in pastel colours. I haven't added a sentiment as yet.
I love playing with these images. Now I just can't wait for my stamps to arrive so I can play even more! :D In the words of the classic Def Leppard song, "Pour some sugar on me"! :lol: