Wednesday already? Again? Eeep, time seems to be flying by atm.
Wednesday is of course the day where crafters the world over share a peek at what's going on on their workdesks/crafty spaces. So here's what's on mine:
No active crafting going on atm. I had every intention of getting in the craft room tonight but DD2 had other ideas... our schedule was a bit all over the place today and she ended up having a late afternoon nap... which meant, despite me delaying bedtime, she apparently decided sleeping was not on the agenda and pitched a fit instead. So she didn't go successfully to bed until gone 9pm!
But anyhooo... on the main desk this morning is a recently-completed card, together with the usual detritus of the crafting process.
And on the "spare" desk....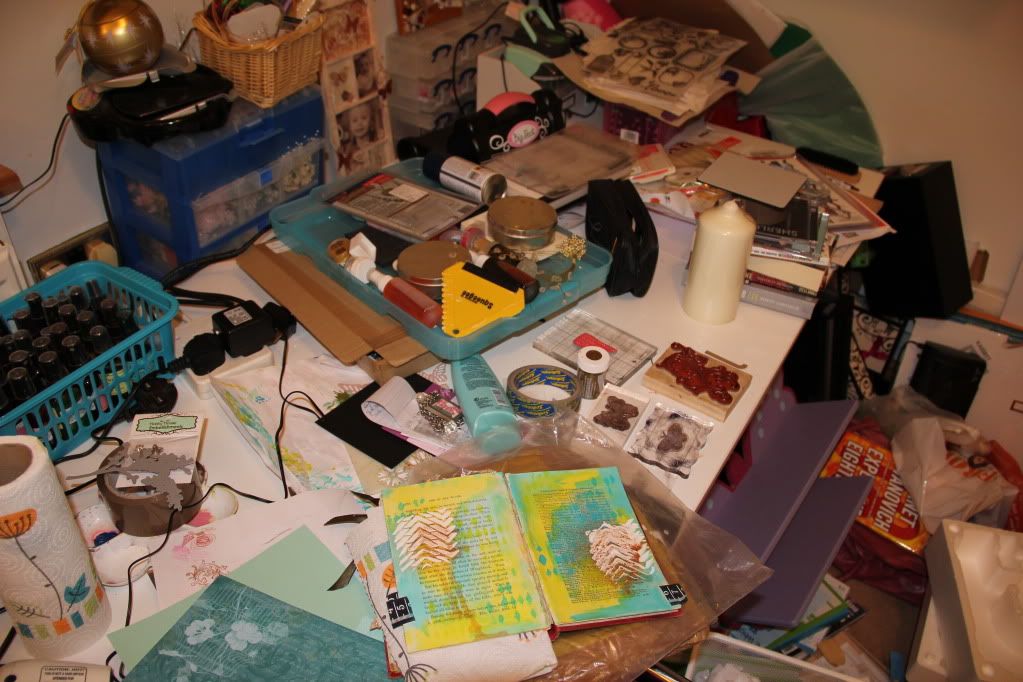 Well, would ya look at that? The desk that I lovingly cleared only a week ago is now covered in stuff again. And d'ya know what? It's actually not my fault! Most of the stuff on there was dumped there last weekend by DH on one of his occasional "tidying" sessions... you know, the ones where he "tidies" the rest of the house by basically clearing everything off every surface and dumping it in my craft room instead! Grrrrr.
The one positive thing in this picture is the in-progress art journal CJ entry on the desk.
And that's it from me. Short and sweet. We've got a busy day tomorrow with a couple of appointments and a shopping trip to buy school uniform for DD1 for when she starts pre-school hours at the local primary/junior school in September! Eeep!