I made a couple more sets of ATCs for swapping recently...
I got inspired by the Crafter's Workshop templates on Create & Craft recently and so I dug out some templates from my stash to have a play:
For this set of ATCs I dabbed Tea Dye Distress Ink through the template onto shimmer card and then also inked the edges with Tea Dye ink. I stamped the coffee cup and wording with Vintage Sepia Versafine ink and heat embossed with clear embossing powder.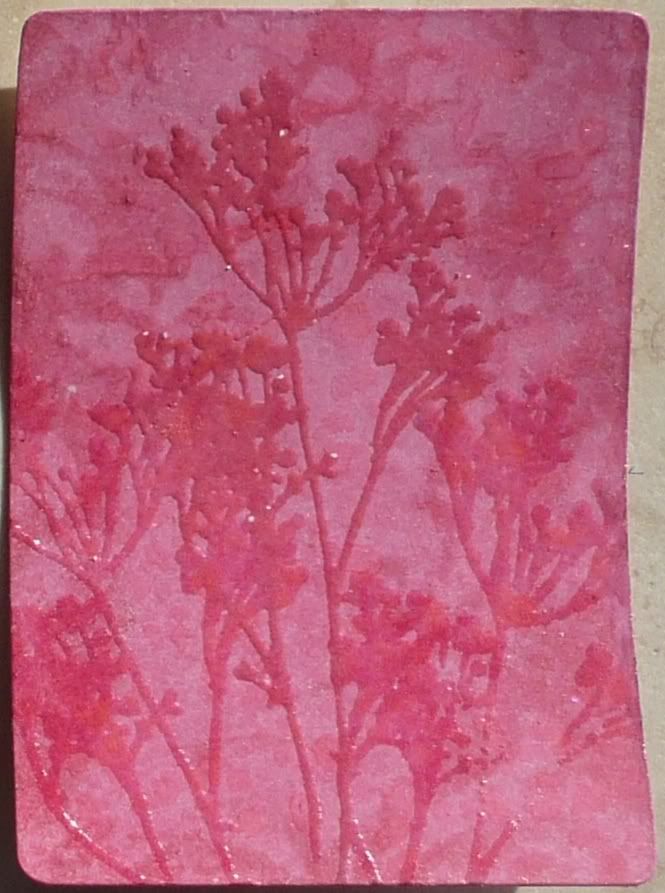 For this next set I used the same template as in the set above (although you can't see the pattern very well now that it's been stamped over) and had a play with the ghosting/shadowing technique demonstrated on the Create & Craft show. I spritzed shimmer card with Mallow Blush Cosmic Shimmer Mist and dried with a heat gun. I think spritzed with Lava Red Cosmic Shimmer Mist and, while the ink was still wet, rolled a toilet roll over it. I then laid the template over the card and spritzed water through it with a Mini Mister, removed the stencil and again rolled the toilet roll over it.
I stamped over the completed background with a Tim Holtz stamp, stamping the design 3 times, the first two embossed with clear embossing powder and the last time embossed with a pale pearly pink embossing powder.
I loved playing with the stencils and can't wait to try out some more ideas... and the new stencils that I gave in and ordered off Create & Craft! :lol: