Well, it's technically Wednesday here (and I *really* should go to bed soon! :D) so it's time for a peek at What's On My Workdesk.
Now then. I know I always say in these posts that what's on my desk is a mess. Well. This time, it really is. I BADLY need to tidy. My desk (and when I say my desk, I mean the entirety of the two large Ikea desks.. including the corner that is nominally my computer area) is covered in stash and equipment that I have used and not put away, scraps and debris of the crafting process and new stash that I need to find a home for! And not just the desks either. The chaos has spread to the floor and beyond... I have bits and bobs cluttering every surface and even resting on open drawers in my craft unit.
In short. MESS!!
Let me treat you to the full-on panoramic view:
Starting from the right... technically my "tool/gadget desk" is covered in tools and bits and bobs...
there's just about enough space for me to use my BigShot... but only just!!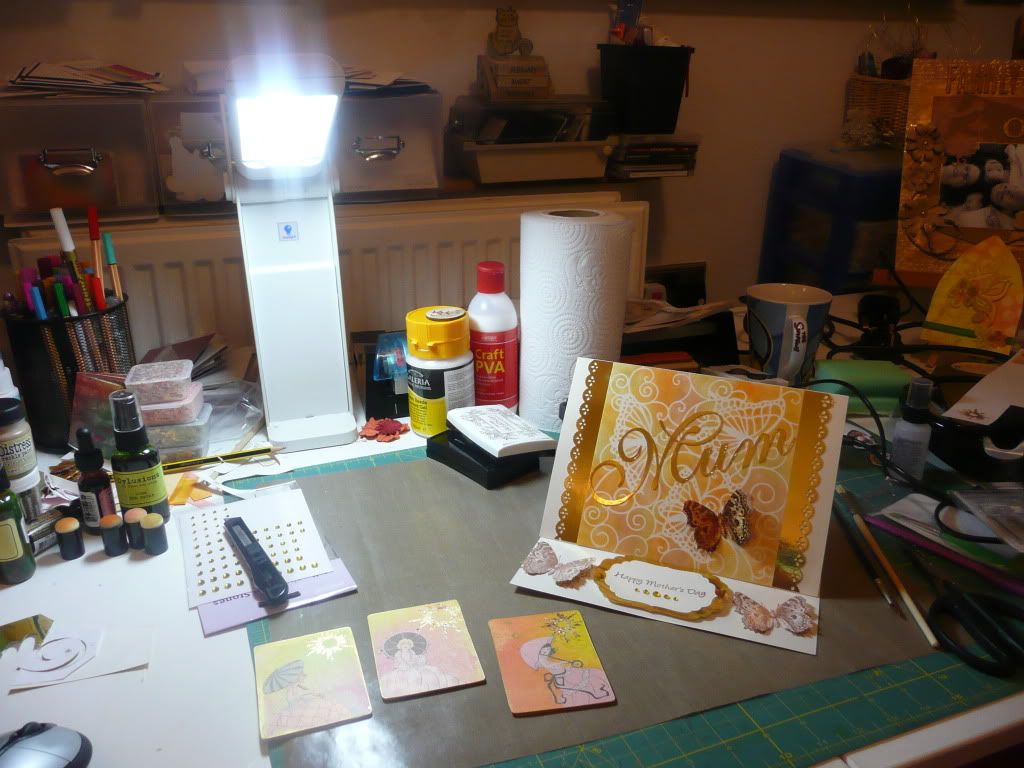 My actual work area... just about enough desk space to actually craft in... currently containing a
just completed card for a customer and a recently completed set of ATCs.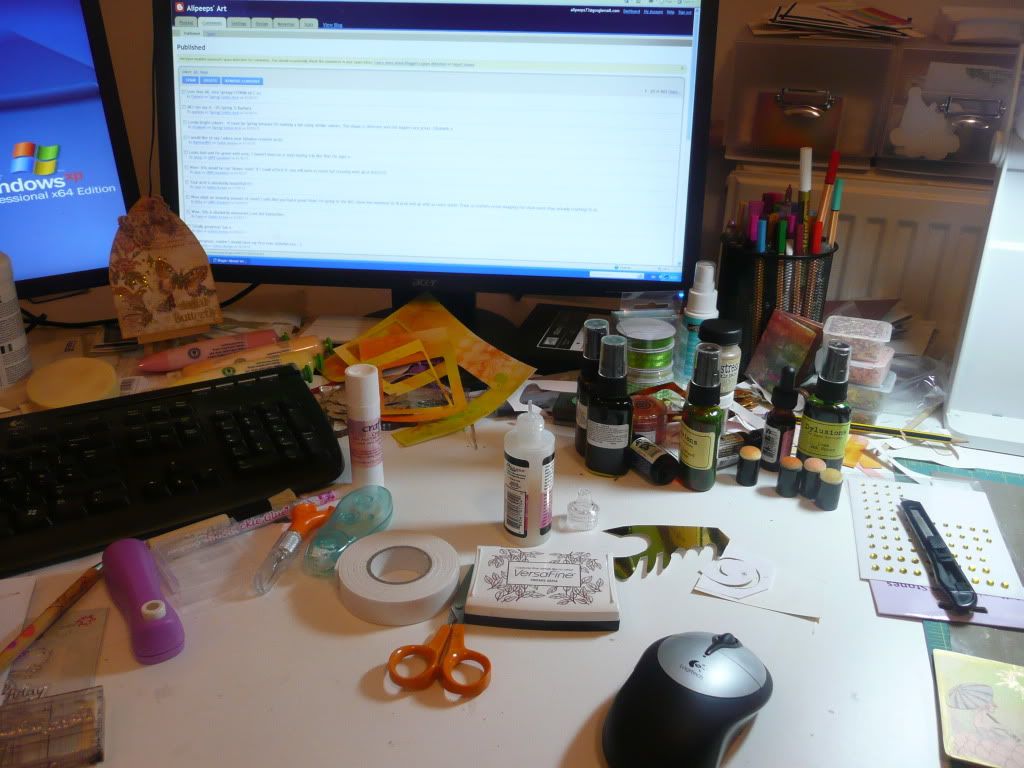 This is supposed to be the computer area. The keyboard has been shoved aside
and the mouse is adrift in a sea of crafty bits and bobs!
I can just about reach over the piles of stuff to type on the keyboard. *Just* I'm pretty
sure there's a printer under there somewhere...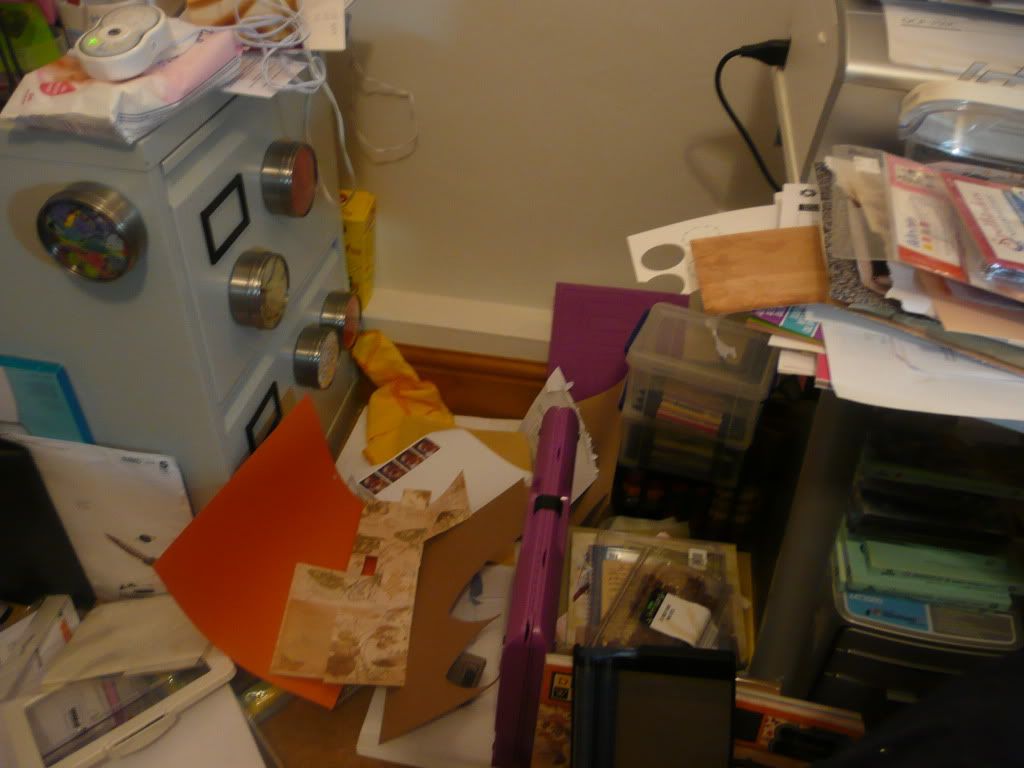 It's never a good sign when you actually can't open the filing cabinet drawer because
of the stuff piled up on the floor in front of it!!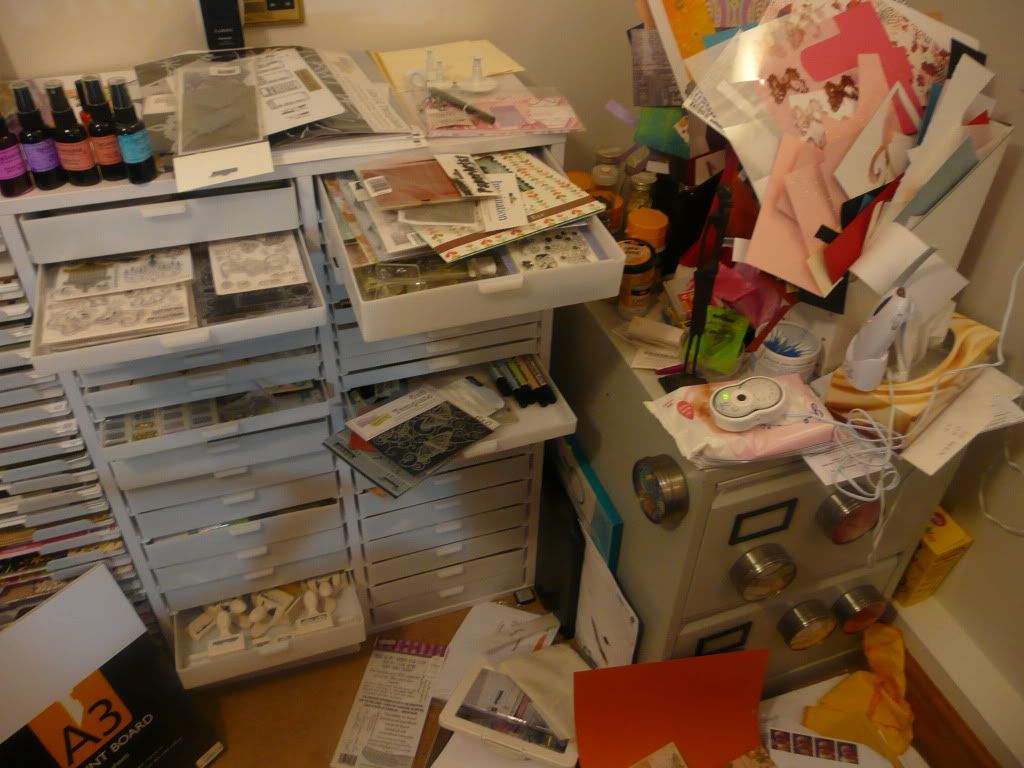 Not just tidying but some serious reorganisation needed here as the drawers in which I keep my
clear stamps have reached - and exceeded! - capacity... and that's without the new stamps acquired at GNPE,
which are currently sitting in a carrier bag under my desk!!
Piled-up packets of cardstock and mountboard prevent access to some of my
paper shelves and the lower shelves of my Expedit!!
It's now reaching the point where I am struggling to craft because I a) am lacking the desk space to craft in and b) when I use an item, I'm struggling to find a spare square inch of desk space to put it down on! :lol:
So next week I *hope* to bring you pictures of a much tidier desk/workspace. No really. ;)
Thanks for stopping by - if you're new to WOYWW then you can find the full list of workdesks to take a peek at Julia's Stamping Ground blog
here
.