This was a fun challenge with a great sketch. I went with shades of brown (for the sake of argument, gold is a shade of brown, okay? ;)) for my LO: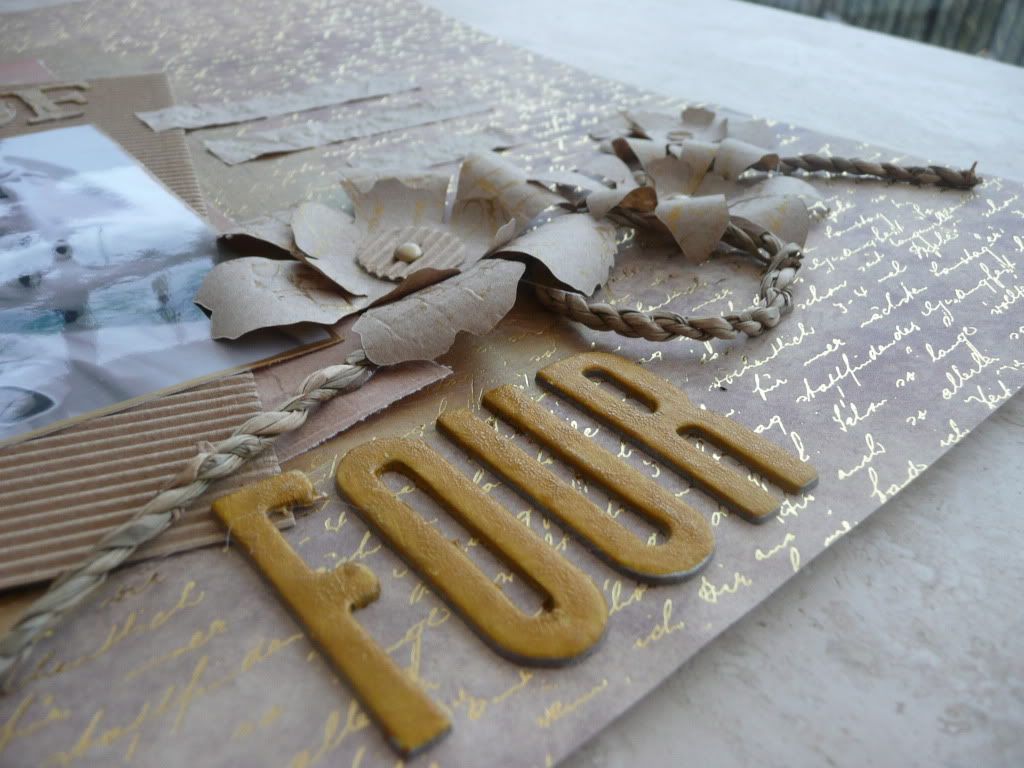 I had a rummage through my stash and found this absolutely scrummy gold script paper that I've had lying around for literally years (must be at least six years... it's from a pile of papers that I bought way back when I first started scrapping). It's fairly thin paper so I had to stick it onto cardstock to use it as a background. I used Aged Gold Eco Green acrylic paint behind the matting and the corrugated cardstock and raffia braid added a lovely touch of texture.
I replaced the 3 smaller photos in the sketch with 3 flowers - I made the flowers (and the little journalling strips) from a sheet of plain brown parcel paper (that I'd bought in order to wrap the giant birthday card for DD1 to post to cBeebies! :lol:). I stamped onto two pieces of parcel paper using my Stampin' Up! En Francais background stamp and the Eco Green paint and on another two pieces of parcel paper I dabbed the Eco Green paint into a Tim Holtz embossing folder, inserted the paper and rolled over the folder with a brayer. I then ran the patterned papers through my BigShot using the TH Tattered Florals die.
The title is made from Thickers painted with Aged Brass Distress Crackle Paint and Making Memories chipboard alphas run through the BigShot with the TH embossing folder and painted with the Eco Green paint.
I'm really rather pleased with how this one turned out. :)