I was really pleased to see the
Gothic Arch challenge blog
up and running again cos I'd just gotten into making them when it went on hiatus. That said, I've not found time to take part in the first few challenges since it started up again but this week I have finally managed to do so. The theme for the current challenge is Bedazzled: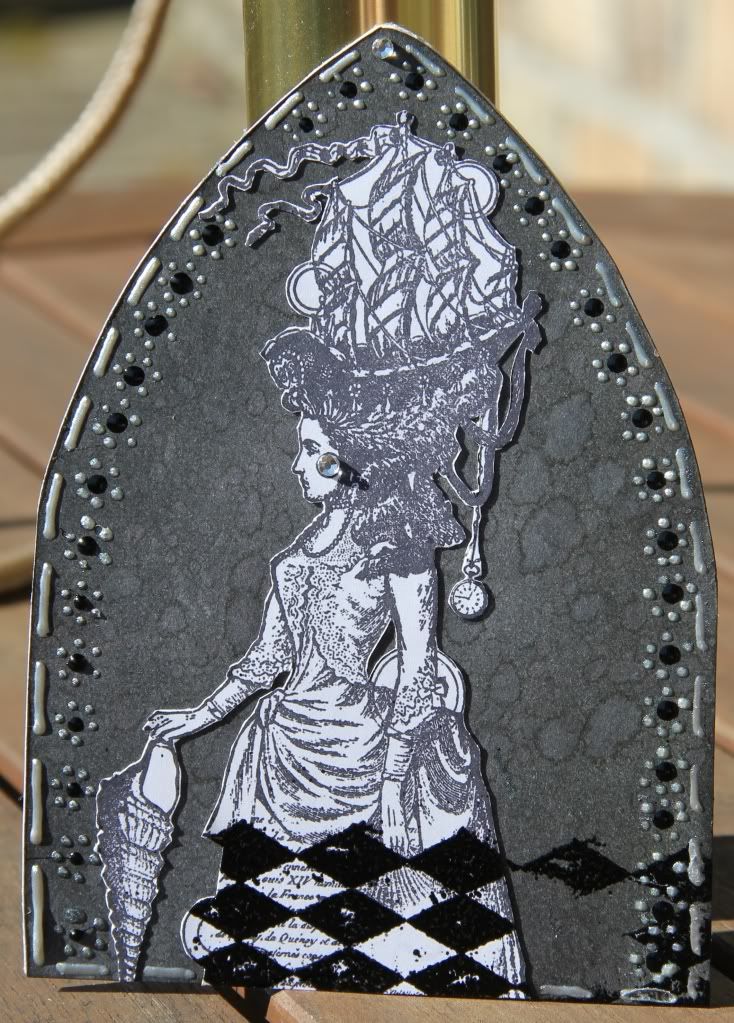 Lovely sunny photo for once - hasn't the weather been *gorgeous* today?! :)
I did a lot of decoration on this using Pearl Pens, in silver and pearl, and Enamel Accents, in black, and added a couple of diamante gems for a bit of "bedazzle". :)
I'm also entering this arch into this week's challenge at
Simon Says Stamp and Show
, where the theme is Handmade Backgrounds. Of course, given that I'm doing Tim's Creative Chemistry 101 course atm, I had about a gazillion ideas for making backgrounds but I really wanted to use this Lynne Perella stamp from Paper Artsy (a recent acquisition) and I just felt like it needed to be in black and white. And I'd also recently picked up a Black Soot Distress Inkpad so I decided to have a play with that and made a monochrome back background using Tim's "spritz and flick" technique. I'll be honest... the resulting effect wasn't quite what I expected... the wicking effect is not as visible/obvious on plain black but it makes quite a nice, subtle effect and I do like it.
I hope to find time to do more of the gothic art challenges. :)