Regular readers of this blog may by now be aware that I'm a bit addicted to stamping. And, um.. stamp buying! :lol: But hey, stash shopping is half the fun of crafting, right? :D
So anyway... I just love stamping as a technique... it's so versatile and you can create such amazingly different effects depending on the surface, the ink, the stamps, the accents you use etc.
In the last couple of days I've used stamping on a couple of different projects. I have, of course, been using stamping in the course of following Tim Holtz's Creative Chemistry 101 class (but more on that later) but I've also used stamping on a card and a scrapbook page.
The card was just a quick notecard that I made to send out with a swap but I took the opportunity to play with an idea I'd been toying with: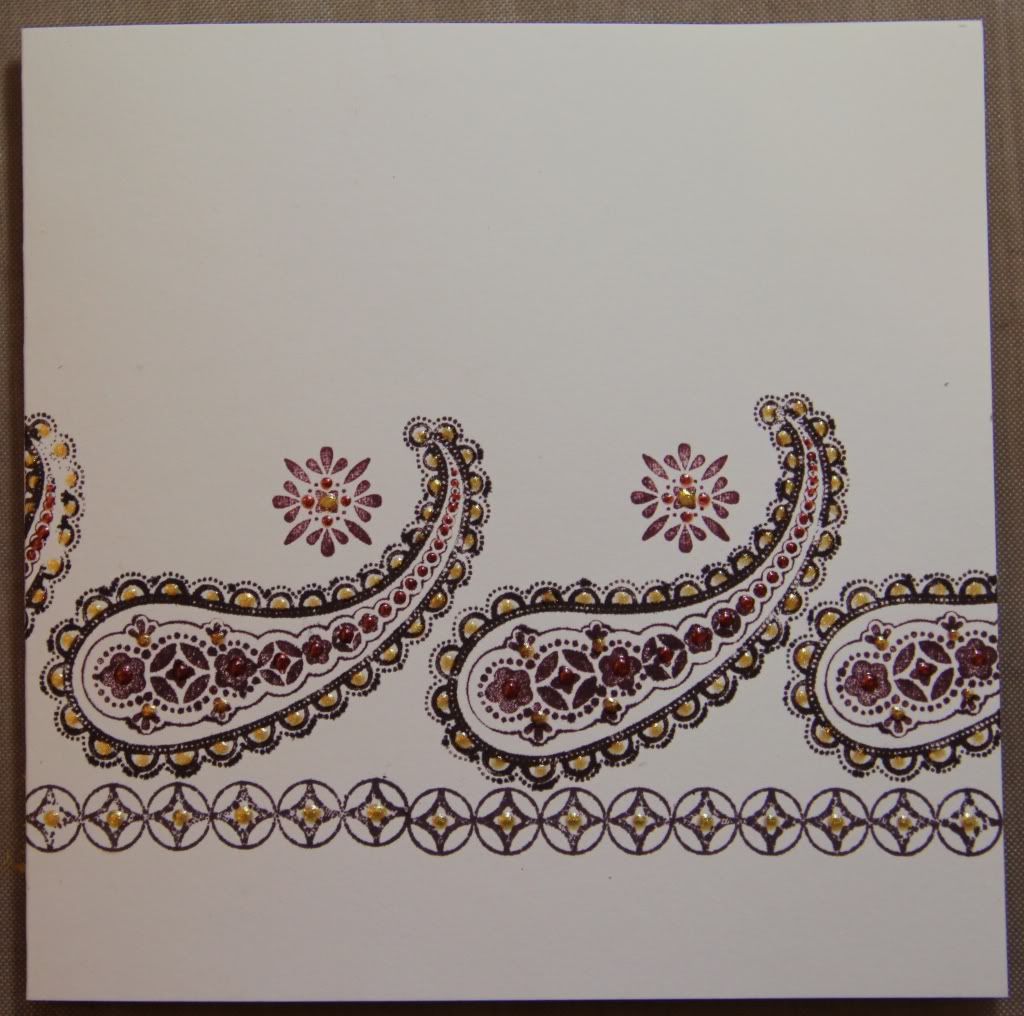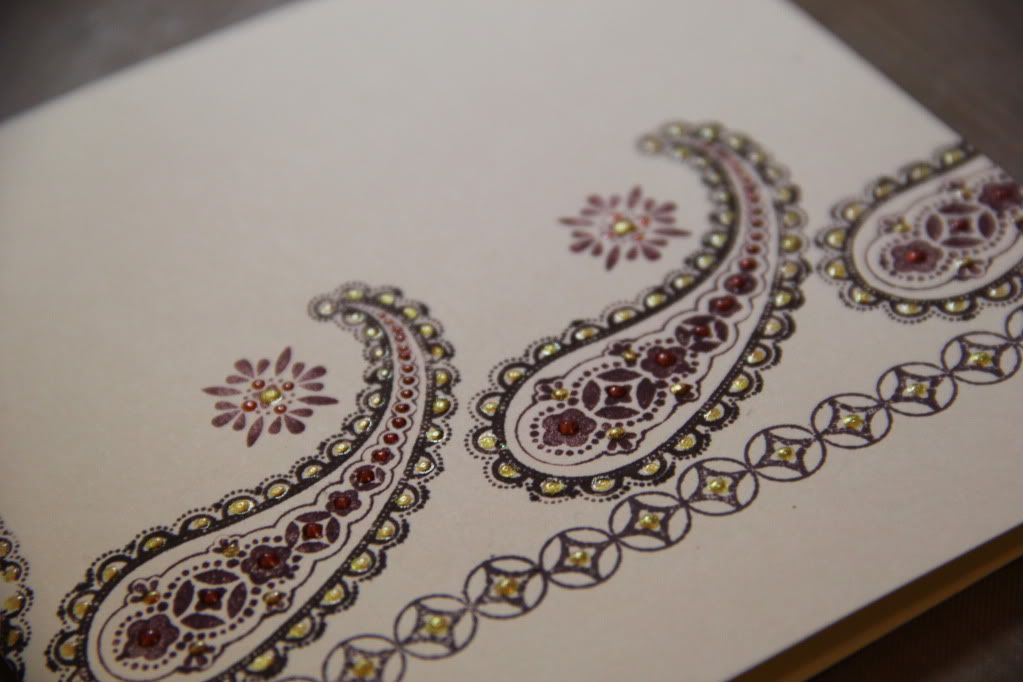 As soon as I saw this Spiced Paisley stamp set from Stampin' Up! I had this idea in my head that it would be perfect for a) making a repeated pattern and b) embellishing with liquid accents (Pearl Drop, Stickles, whatever) to make a rich, Moroccan-stylee, brocade sort of effect.
So I stamped the border in Chocolate Chip ink and then coloured the large paisley stamp with Chocolate Chip and Bravo Burgundy Stampin' Markers and stamped it repeatedly (using my Stamp-ma-jig to get the placing right) and then added the smaller design, stamped in Bravo Burgundy. I then went over the entire design adding little dots of gold and bronze pearl accents using my Perlen Pens. Isn't it a gorgeous effect? I really think I might have to try it on a scrapbook page.
And speaking of stamping on a scrapbook page (see what I did there? ;D)... I found time last night to do Shimelle's March class for & Now For Something Completely Different over at UKS. I must say I've been loving these classes from Shimelle and have been really pleased with the LOs I've created from following her great 20-step instructions. And this is no exception: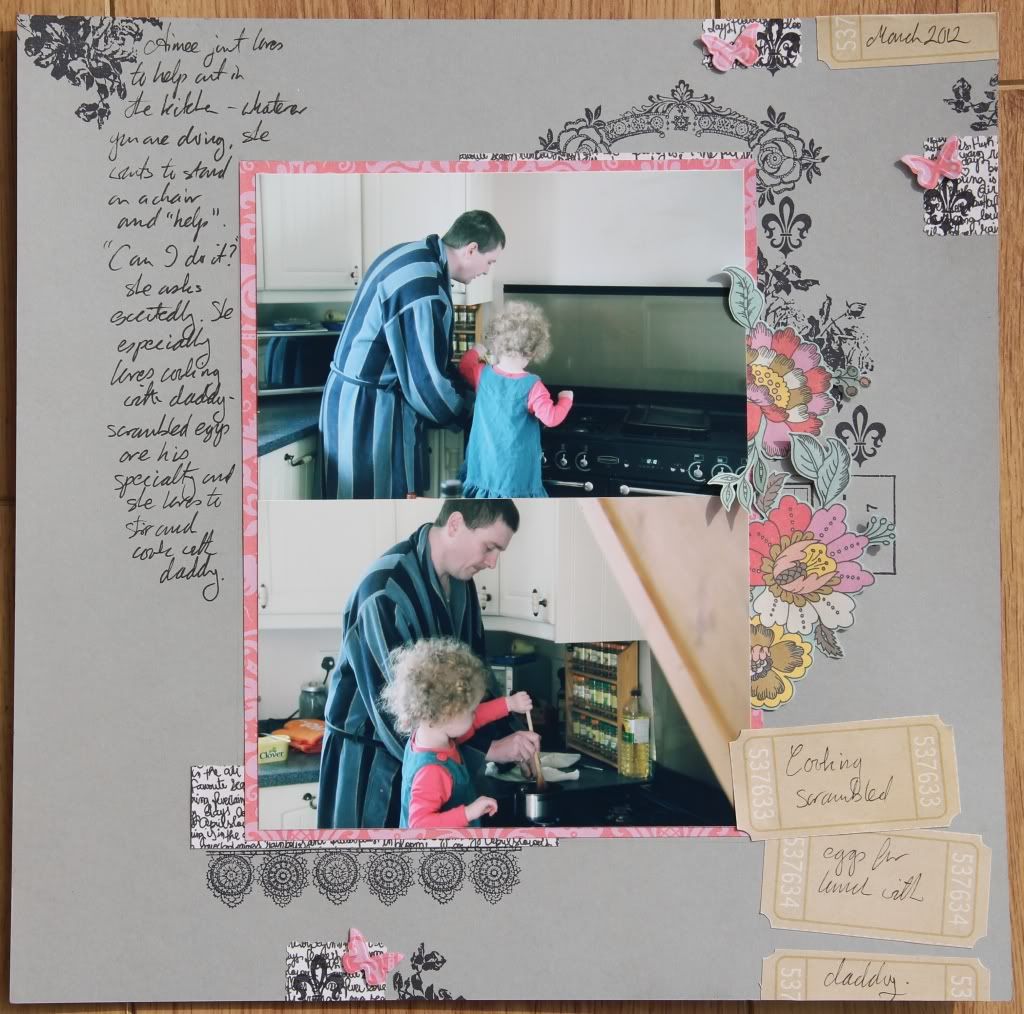 I loved the combination here of layering stamped images and pieces of patterned paper and also the idea of having pieces of patterned paper overlapping the edges of the base card.