The current challenge at the
Stampotique Designers Challenge
blog is to create some wearable art. As soon as I saw the theme, I had an idea. I had an image in my head of the effect I wanted to create with this project and I'm pleased to say that it came out pretty much exactly as I imagined: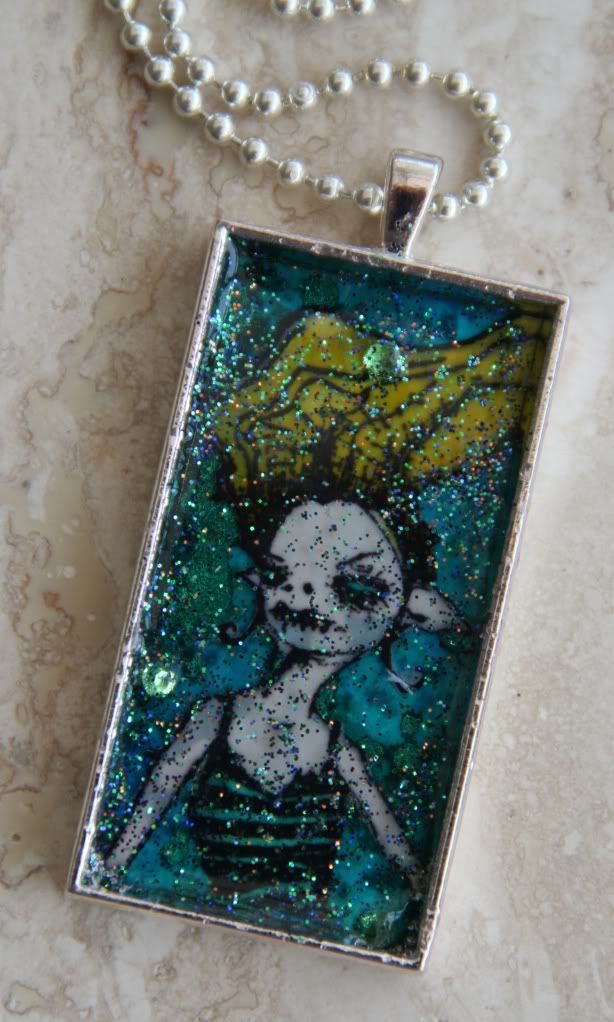 I've had this rectangular pendant (from Crafty Individuals) sitting around for ages and it was perfect for what I wanted to do with this project. It comes with a bevelled glass insert but I decided to use UTEE instead to fill the frame. My idea was to use my Smushallaum mermaid stamp and create a sort of underwater scene - so I cut a piece of card to fit in the frame and made a shimmery, watery background using Dylusions spray inks. I stamped the Smushallaum image onto card and painted her with more Dylusions spray inks before cutting her out and attaching to the background. This was glued into the tray, and then came the really fun part! I started adding layers of UTEE, sprinkling in some fine peacock-coloured glitter as it melted, for that added underwater shimmer. I also added a couple of green gem "bubbles" into the UTEE here and there. I kept going until the tray was filled and then left it to cool.
I love how this looks! I think it has the shimmery, slightly distorted underwater feel that I was going for and I love how the gems encased in the UTEE catch the light in different ways as you turn the piece. Photos really don't do justice to how it shimmers and catches the light as it moves. I am so pleased with this that I'm wearing it as I type! :) I think I may make some more pendants using UTEE in this way, it's a really effective technique.
The Stampotique Designers Challenge is also holding a Guest Designer call - I luuuurve Stampotique stamps so am entering this piece for the GD call as well.. I hope they like it as much as I do! :)