Well, one week post mega-desk tidying session, I am pleased to announce that the desk remains relatively (note, relatively!! ;D) uncluttered. :)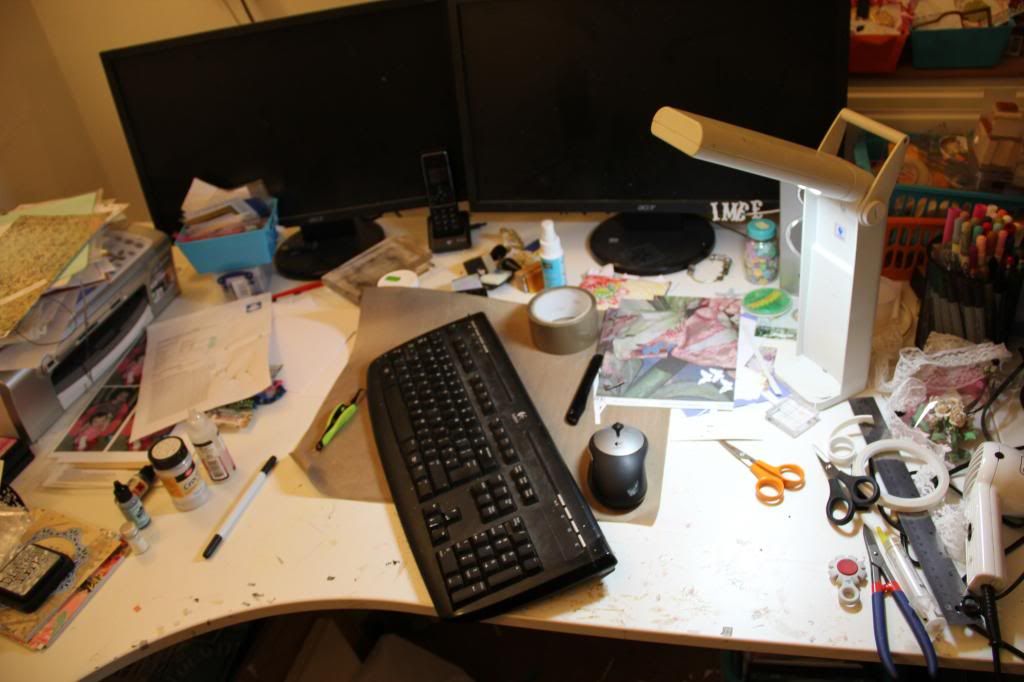 I mean, look, there's even space for the keyboard to be on the desk! Though, to be honest, I've gotten rather used to it being out of the way propped up on the floor so it usually only gets to visit the desk when typing is required. :D
There is a small amount of papery debris on the desk from recent crafting (the results of which will be featuring in a blog post later this morning). Mostly some scraps of my much-loved and long-hoarded Basic Grey papers (from the Phresh & Phunky collection, which just shows you how long I've been hoarding it - that collection was released how many years ago?!!) which are awaiting filing in the appropriate scrap bags.
And the desk tidy system on the Cameo corner of the desk is still working, pretty much:
A few in-progress bits and bobs have been added to the tray and a couple of stamps are parked in front of it, waiting to be put away properly. And in the pursuit of continued tidyness, I took a quick trip to the Range earlier this week and got these:
More storage baskets and a dinky little bin which is going to be my desk bin... so small throwaway paper scraps, and particularly the backing tape strips off DST, can go straight in there and be periodically emptied away, instead of building up on the desk!
Anyhoooo... all this tidying aside, I've not done a huge amount of papercrafting this week (which is another reason why the desk has remained vaguely tidy! :lol:). Partly cos I am still full of lurgy (that's a full week of this now, dammit, and no signs of improvement!) and partly cos I've been working on something a little bit different...
Those of you who stopped by last week will have seen me bemoaning that I had exciting news that I couldn't share yet. Well, I was finally able to make my exciting announcement over the weekend... and it is that I have started making my own range of digi stamps and they are now available to buy from the
Stitchy Bear Stamps store
! How cool is that?! :D I'm super excited about it. There are 6 stamps in the store so far but lots more on the way. Oooh and I'm also having
a wee linky party
to celebrate my awesome news. I'd love it if you'd like to join in. :D
That's it from me. Thanks for stopping by on your hop around the world's craft desks. Tune in next week to see if I can maintain the tidyness! :lol: